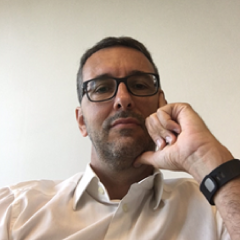 Managing Director at Accenture Digital, in charge for Applied Intelligent Platform (AIP) offering at European level, and for Open Banking and PSD2 in South-East Europe.
I have 25 years executive experience on digital services at the intersection between business strategy and technology innovation, with focus on Web and mobile services, digital payments, mobile/digital commerce, Artificial Intelligence, data-driven platforms, IoT, on Banks, Insurance, Telco, Utility and Retail industries.
Before joining Accenture I served as Director, Strategic Marketing for Ericsson South-East Europe, and had executive roles at Eunosia Digital Architects.
I graduated in Electronic Engineering at "La Sapienza" University, Rome, and I got a Master degree in Information & Communication Technology at CEFIREL – Politechnic University of Milan.