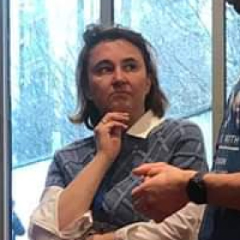 Fulbright Scholar, Board Director, International Manager with over 20 years of experience in Supply Chain, on issues such as innovation, sustainability, competitiveness; and Business Angel in women-led startups.
She is Adjunct Professor and Practice Leader – Supply Chain and Innovation – of Open Consulting at LUISS Business School, where she teaches on the same topics.
She is Managing Director and Board Member of Angels4Women, the first Association of Business Angels investing in women- led startups only and as Business Angel she has personally invested in Impact Hub Milano and in the 2 female startups Chitè and Foodlogica.
Moreover, since May 2020 she is an independent director and member of the Risk and Sustainability Committee in the Board of Directors of Sit Group, an Italian listed company, leader in manufacturing measuring and safety devices for domestic gas equipment.After graduating from Bocconi University, an MBA at Indiana University (USA), with a Fulbright scholarship, and a specialization (MBA-SPE) at INSEAD (Fontainebleau – France), Lorenza's career develops in international enviroment, such  as The Boston Consulting Group (BCG) in Chicago and London, and in industrial companies, leaders in their sectors, such as Bestfoods (now Unilever) Indesit (now Whirlpool) and Candy (now Haier), where she directly managed more than 600 people and more than 2500 indirectly. From 2015 to 2018 she became a member of the transformation leadership teams of Poste Italiane.
For hes give-back activities, she is Commissioner of the Fulbright and BEST- Fulbright Scholarships.Expertise areas:
Strategy in Operations and Supply Chain;
Innovation and Sustainability
Angel Investing, Venture Capital