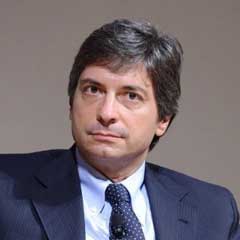 Federico Merola has 26 years of experience in infrastructures, real estate, project and export finance, asset management, financial markets and private equity.
Currently Managing Director and Board Member at Arpinge Spa, equity investment company in infrastructures established and owned by three main Italian Pension Funds.
Furthermore, Indipendent Board Member at SACE, the Italian Export Credit Agency, owned by Cassa Depositi e Prestiti Spa.
Previously, Indipendent Board Member at Invimit SGR (MEF), Geoweb (Sogei) e BNP Paribas REIM SGR.
Among other relevant positions held: General Director of ANCE, Senior Partner in F2i SGR, CEO of REAM SGR, General Director of FIMIT SGR, Manager in the Project Finance Department (PFD) of Schroeders in London and in the PFD of Mediocredito Centrale SpA, where he was responsible for structuring large international transactions of project / export finance, mainly in the Oil & Gas sector.
Among international assignments held, the most significant have been: member of the expert group set up in Brussels by the European Commission on the closed-end and the real estate investment funds (2007-2008), and Member of the "Frankfurt Club" (renegotiation of the public debt of Former Soviet Union towards private investors, 1997-1998).
Lecturer of Economic Statistics at the Faculty of Economics, University of Viterbo (2003/2005) and Lecturer at LUISS Business School: "EREF, Real Estate" (2015); "Finance for Real Estate" (2007- 2008); "International Finance" (2002/2004), Master of Infrastructure (2018).
Author of papers and researches focused on innovation in finance (closed-end funds, real estate funds, project finance), the credit and financial markets; he published various books with "Edizioni del Sole 24 Ore", "Franco Angeli" and "Il Mulino". He has cooperated with some of the main Italian newspapers, such as "Il Sole 24 Ore", "Il Corriere della Sera", and with other newspapers or specialized magazines. Finally, he has been a member of several scientific committees (i.e. Nomisma, Assoimmobiliare).
Graduated with honors in Economics at LUISS University in Rome (1989) and titled as Chartered Accountant and Auditor.