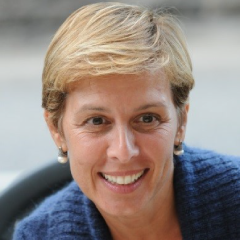 Director of Media Relations and Corporate Communications since 2004.
Member of Executive Committee of Vodafone Italy and Vodafone Italia Foundation Board.
After joining Vodafone in 2001, she was appointed in 2002 Head of Media Relations within the External Relations Department.
Before switching to Vodafone Italia she gained valuable work experience with Enel Group,  where covered growing responsibilities becoming, between 1997 and 2001, responsible for relations with the foreign press within the External Relations Department.
She has been Member of FERPI Board from 2009 to 2016.
Having graduated from "La Sapienza" University in Rome, she began her professional career as a teacher of Italian to foreigners at the DI.L.IT. International House School.