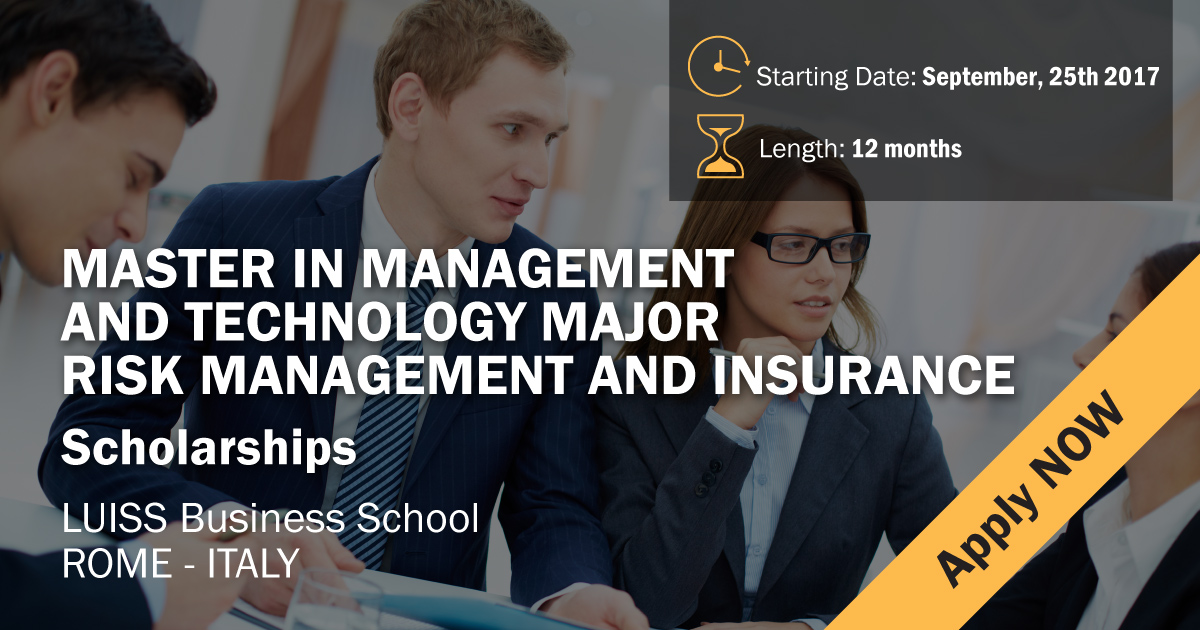 Are you looking to enhance your career by acquiring a new set of crucial skills in planning and executing Risk Management processes through a cutting-edge Master experience?
SCHOLARSHIPS DESCRIPTION
The Master in Management and Technology with a Major in Risk Management and Insurance offers students the skills in planning and executing risk management processes for a great career. The program offers a professional growth opportunity which can be immediately valued by the corporate world.
The Major is designed and launched in a joint effort by: MAG-JLT Group, a leading broker for Italian companies working in national and international markets and LUISS Business School, an internationally accredited business school based in Rome, Italy.
The initiative offers 10 full scholarships to a selected group of outstanding candidates in order to support them to have: direct access to organizations eager to support talented students in the development of their potential; an internationally accredited Master degree at LUISS Business School, which provides a culturally relevant and professionally memorable experience in the heart of Rome; a fully sponsored track into the world of risk management with Leading Companies that pursue diversity and inclusion as key strategic assets.
ELIGIBILITY
Candidates regularly accepted into the Master in Management and Technology with Major in Risk Management and Insurance.
APPLICATION PROCESS
To apply for the scholarship Applicants must participate in the admission process and provide:
copy of their degree certificate;
copy of passport or ID document;
Curriculum Vitae;
Admission fee receipt (EUR 75 admission fee – non-refundable).
ESSAY REQUIREMENTS
Applicants must write an essay (maximum 2000 words) containing the following elements:
Reasons why they qualify for the scholarship;
An aspect in their life that has made them stand out amongst their peers;
An explanation on how the program is expected to contribute to their career and future goals related to personal development.
EVALUATION
Candidates will be considered and evaluated based on merit, including the quality of their admission application and interviews, and on the candidate's commitment to personal and social development.
DEADLINE AND NOTIFICATION
Applications for the scholarships must be submitted by May 31, 2018 to masterluissbs@luiss.it. The successful candidate will be contacted approximately three days after the above deadline. The awarded student must confirm the acceptance of the grant within 5 working days after reception of the notification. If the scholarship is not allocated, candidates on the waiting list will be considered. Grants will be offered to the students on the waiting list following their position in the merit ranking. In case of program withdrawal or exclusion for any reason, the student will be required to refund the total tuition fees and other administrative charges. Please note that only the Scholarship winner will be exempted from the Tuition fees; the winner will be refunded any prior paid instalment. To formally become students, non-awarded candidates are required to proceed with the payment of the first instalment of the tuition fees within the deadline communicated in the official admission notification sent by our representative office. If the candidate does not proceed with the payment of the first instalment within the deadline communicated, his/her status will automatically be removed from the right of immediate enrolment.
If you have questions, please contact us at masterluissbs@luiss.it
07/07/2017