Overview
The Flex MBA is intended to pave the way for professionals, entrepreneurs and innovators who wish to boost their current career prospects, with a digital twist. As a self-paced Programme, the Flex MBA is predominantly delivered online to meet the requirements of worldwide professionals who wish to acquire an MBA without sacrificing work and personal space.
With the boundless approach of online learning and the self-paced momentum of asynchronous learning, the Flex MBA is the latest result of the fusion between academics and digital transformation.
While live sessions are held every other week on Tuesdays and Thursdays from 5:30 to 8:30 PM, the self-paced portion of each course is available on the dedicated platform. Students will be able to access all materials, forums, and assignments quickly and easily.
It's founding pillars are:
Flexibility: The programme is flexible and adaptable to both personal needs and professional commitments, thanks to its predominantly digital nature divided between synchronous lessons and self-study materials, all available 24/7 on a cutting-edge platform.
Global Perspective: The learning experience is inspired by international teaching methods, research centres and companies. The programme is structured to encourage the development of professional contacts at an international level, boosted by the cross-MBA activities. Moreover, participants will have an opportunity to participate in a Study Tour Abroad at an international business school partner of Luiss Business School.
Hyper-Personalisation: While we plant the seeds to feed the required knowledge in Business Administration through our Essential and Core courses, you decide how to enhance your specific experience through the selection of Electives and Soft Skills courses. This will guarantee a unique path for every student, based on their needs and goals to achieve.
Learning Journey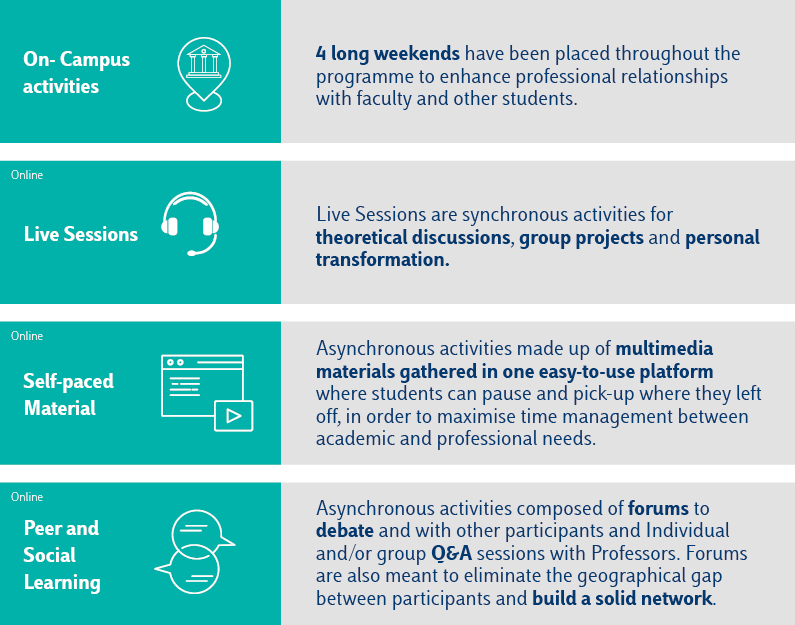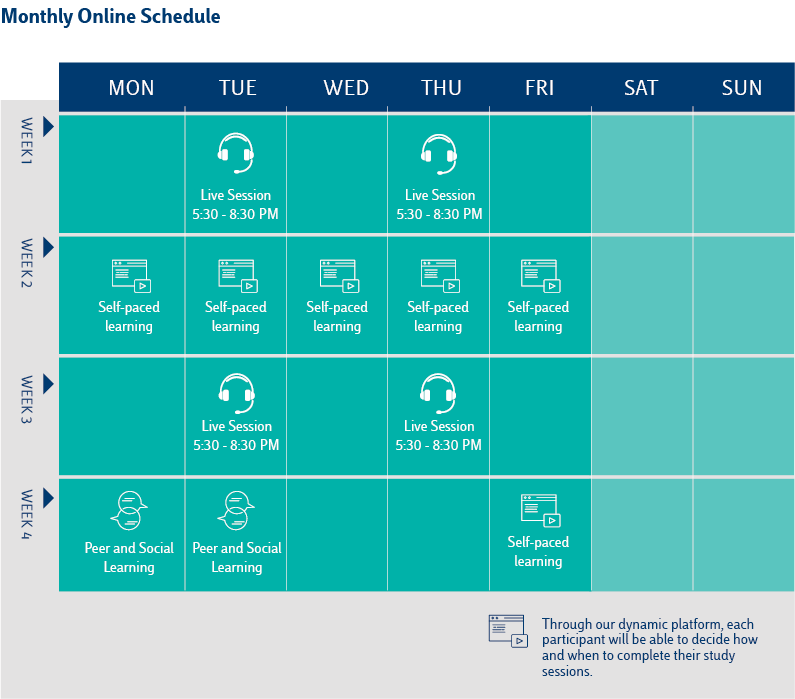 Target Audience
The programme is designed for professionals worldwide with at least 4 years' work experience who wish to improve their professional skills, boost their careers and manage the innovative and competitive skills required by the market, from the comfort of their own home/office.
Diploma and ECTS
The Flex MBA is a Degree Programme equivalent to "Master Universitario di I livello" in accordance with the Italian university system. It provides students with 75 ECTS – European Credit Transfer and Accumulation System. At the end of the Programme, the "Master Universitario di I livello" Master's Diploma will be conferred to participants who have passed exams or other assessment tests envisaged in the study program.