International study week
International study week (ISW) is an exchange opportunity for the graduate students enrolled in one-year master programmes of a business area. This project aims to give a possibility to graduate students to gain international experience, taking into consideration their time restraints and the necessity, at the same time, to be ready for the challenges of the international market. It is addressed especially to those students who aspire to work in a global market and who want to learn about the best-practices of different countries.
---
Nature
ISW is a network of business schools that arises from the need to give a possibility of international exposure to graduate students enrolled in one-year master programmes.
Schools put together their resources necessary for the ISW network activities, such as faculty, international office staff, facilities and study material.
The network schools exchange their students during the same week. Each school can send their students in one of the network schools.
---
Network Schools
Nottingham Trent University, Nott. Business School – LUISS Business School – Tilburg University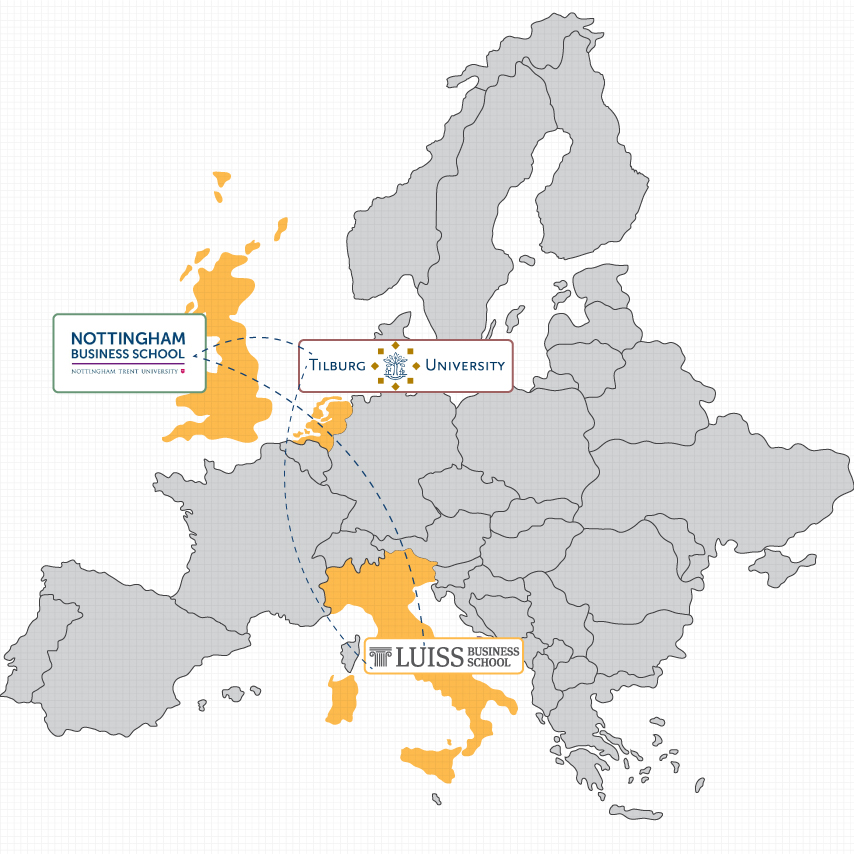 Participants
Each school can select up to ten students to send to partner schools.
Students who haven't been selected to go abroad will stay at home school. They will attend classes of the International Study Week with the students, coming from other network schools, hence, having a chance to network with their international peers at home.
---
Programme structure
Five students from LUISS Business School can go to Nottingham Business School (UK) and other five students from LUISS Business School to Tilburg University (The Netherlands). While Nottingham Business School and Tilburg University send 10 students (in total) to LUISS Business School.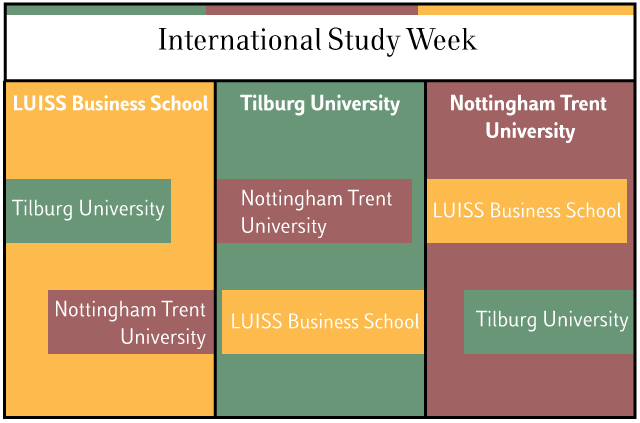 Programme content
Each school prepares a topic according to the school's or the country's most relevant area. As for example, fashion and food for Italy but not limited to; or a topic concentrated on "Doing business in "country"".
The programme structure includes workshops held by guest speakers from a national or international company and LUISS faculty, group work on a business case, a learning tour to distinctive locations and a cultural visit.
How to participate
A call for participation will be announced by each schools' international office.
---
Current Edition
March 30 – April 3, 2020
During this week students will attend an international study week at one of the following schools:
Luiss Business School "Luxury Heritage and Style"
Nottingham Business School "Global Responsibility Week"
Tilburg University "Gateway to Europe. Transportation, Logistics, and Supply Chain"
---
Previous editions
2° Edition: Made in Italy: Fashion "Capucci Project", March 4-8, 2019.
During this edition students attended sessions on luxury and fashion, visited Capucci and Bulgari distinctive locations. Participants analised a current Capucci portfolio, identifying a possible growth opportunities. At the end of the week each group presented a new strategy for a Capucci rebranding.
GALLERY
VIDEO
---
1° Edition: Made in Italy: Food, "Colli Etruschi Project", March 5- 9, 2018.
The aim of the study week was to explore the food system in Italy through the eyes of managers and entrepreneurs that contributed to the creation of Italian excellence in the food sector.
GALLERY