EHRM
The European Human Resource Management programme is an opportunity for students enrolled in the Master in Human Resource Management of Luiss Business School to attend lectures on HR taught by international faculty and to carry out an HR project in a multinational company. This in-company project provides students with the experience of cross-cultural teamwork and takes place in a foreign country.
The programme brings together participants and faculty from seven leading European Business Schools and universities:
Helmut-Schmidt-University Hamburg, Germany
Luiss Business School, Rome, Italy
Radboud University Nijmegen, the Netherlands
Riga International School of Economics and Business Administration, Latvia
Vlerick Business School, Belgium
University of Bamberg, Germany
In total, approximately 25 students and several professors from different institutions participate in the programme.
The EHRM programme consists of three residential elements and an in-depth, eleven-week consultancy project carried out within, or on behalf of, an internationally operating company.
programme structure 2020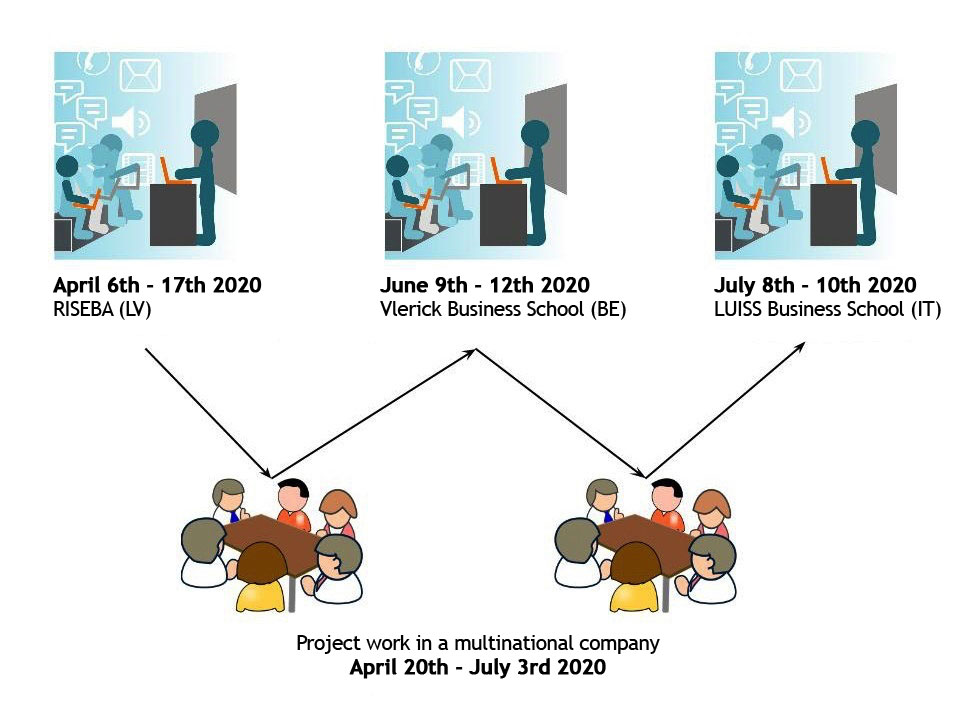 Who can take part in the programme?
Students enrolled in Master of Human Recourse Management (GRUO) at LUISS Business School, whose English language knowledge level is B2 or higher, can take part in the EHRM programme. Each student eager to apply for the programme will need to complete an application form and go through a selection process. The application call will be announced in class in October by the International Office.
Financial arrangements
A company (i.e., project host):
covers one round-trip economy/student air fare between home country of the student and company (project) site;
reimburses costs of appropriate modest shared accommodation for the entire project period between end of residential I and beginning of residential III.
For more information please write to bs.international@luiss.it.