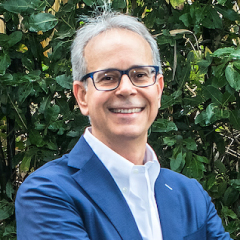 Full Professor Energy and Environmental Systems, Università degli Studi Guglielmo Marconi
Full Professor of Energy and Environmental Systems at the University of Guglielmo Marconi and holder of a PhD in Energetics, he is also Coordinator of the PhD in Physical and Engineering Sciences for Innovation and Sustainability. At Luiss Business School, he is Director of the Executive Master in Sustainable Mobility and also directs the Auto and Mobility Observatory.
Prof. Orecchini is scientific coordinator of national and international research projects at the University of Rome "La Sapienza" and the University of Guglielmo Marconi in the fields of renewable energy sources, energy carriers, innovative zero-emission technologies for energy conversion, automotive traction and mobility.
Previously Director of the Department of Sustainability Engineering and the Department of Mechanics and Energetics at the Università degli studi Guglielmo Marconi.