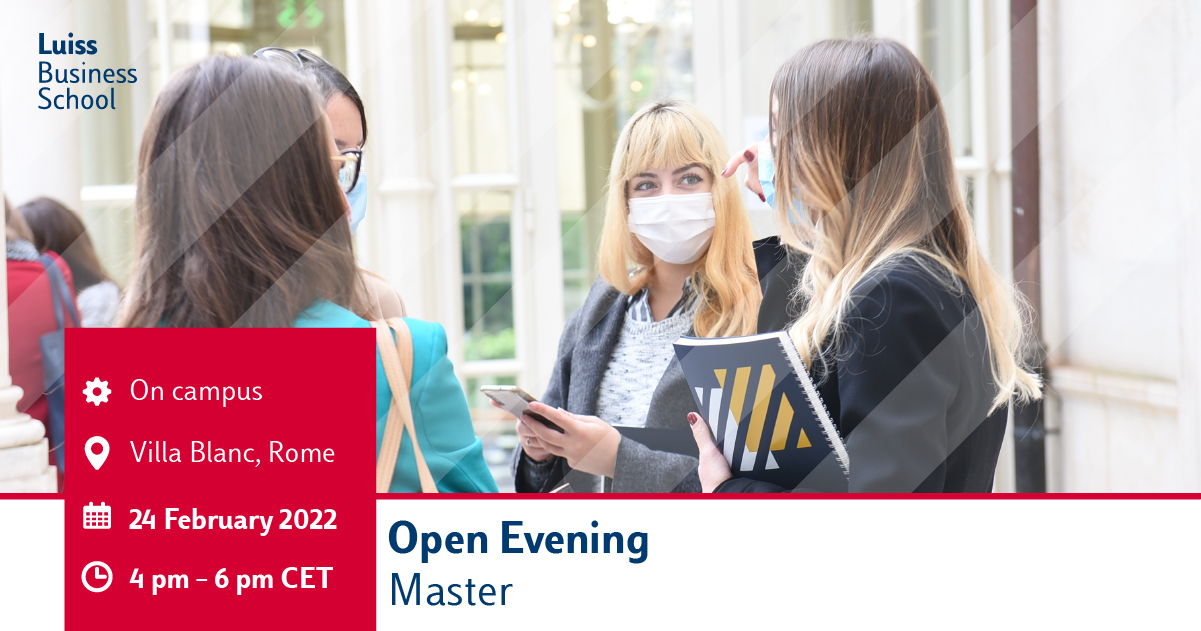 The Master Open Evening is the on-campus event where you can discover Luiss Business School's first- and second-level master's programmes dedicated to undergraduates in their final year and recent graduates.
The Luiss Business School Staff will be at your disposal for info sessions about:
selection and admission process;
financial aid and scholarships;
career support services;
career opportunities and international experience.
During the Open Evening you will find answers to all your questions about the master's programme that you are interested in or, if you are not clear about which one is right for you, you will be guided in your search for the master's programme that matches your aspirations and aptitudes.
WHEN: 24 February 2022 from 4 pm to 6 pm CET
WHERE: Luiss Business School, Villa Blanc Campus, Via Nomentana 216, 00162 Rome.
In compliance with Covid safety regulations, the Super Green Pass Certificate is mandatory to participate, and time slots will be allocated with restricted access.
The event is free of charge. Registration is required.
The master's programmes presented:
Master in International Management (English)

Major in Sustainability & Energy Industry (English)

Major in Fashion & Luxury Management (English)

Major in Tourism Management (English)

Major in International Cooperation for Local Development (English)

Major in Global Health Management (English)

Master in Financial Management

Major in Corporate Finance (English)
Major in Corporate Investment Banking
Major in Amministrazione Finanza e Controllo
Major in Real Estate Finance
Major in Finanza sostenibile

Master in Digital and Business Transformation

Major in Business Transformation (English)
Major in Strategy for Disruptive Growth 
Major in Digital Business Strategy 
Major in Big Data and Management (English)
Major in Entrepreneurship & Start Up
Major in Sustainable Management & Entrepreneurship
Major in Business Transformation
Major in Global Supply Chain Management (English)

Master in Gestione delle Risorse Umane e dei Progetti

Major in Gestione delle Risorse Umane e Organizzazione
Major in Project Management

Master in Marketing Management

Major in Digital Marketing
Major in Sales and Account Management
Major in Retail e-commerce e Gestione Multicanale
Major in Export Management
Major in Corporate Event: Management, PR and Communication
Major in HORECA Trade Management
Major in Customer Experience Management (English)

Master in Management delle Imprese Creative e Culturali

Major in Art Management
Major in Food and Wine Business
Major in Music
Major in Gestione della Produzione Cinematografica e Televisiva
Major in Writing School for Cinema and TV
Major in Sport Management

Master in Diritto Tributario Contabilità e Pianificazione Fiscale
Corso in Consulente Legale d'Impresa
For the protection of all Open Evening participants, please note that FFP2 masks must be worn throughout the event.
2/9/2022
Publication date
February 9 2022
Publication date
February 9 2022