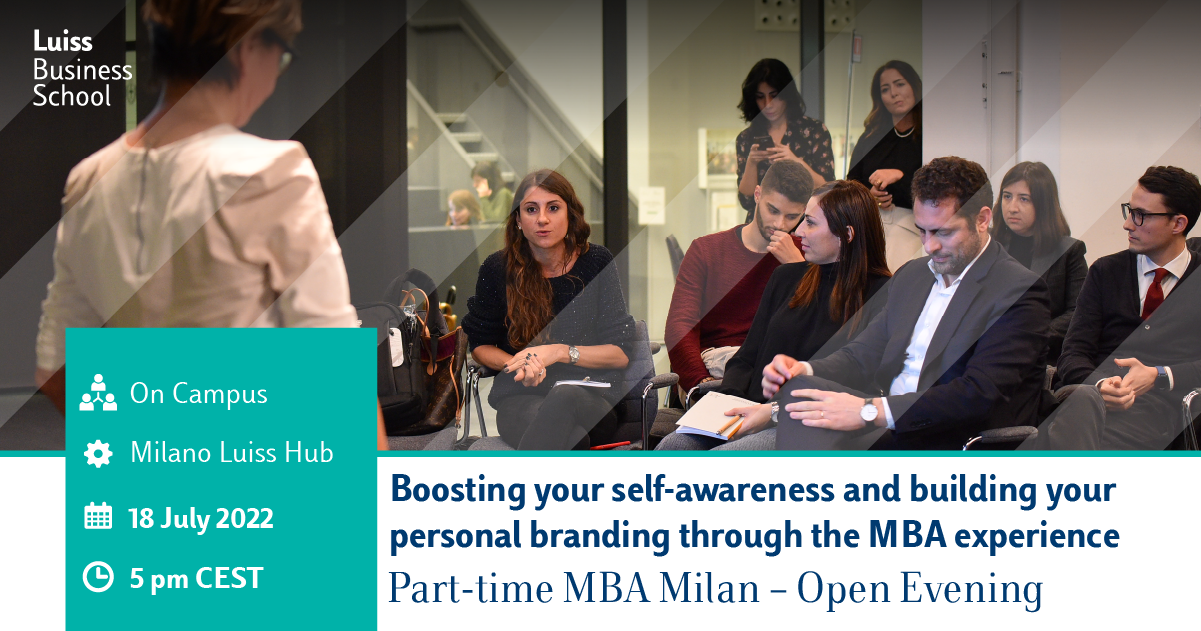 On 18 July 2022 Luiss Business School hosts the Part-time MBA Open evening to present the next edition of the Part-time MBA Milan at the Milan Hub, starting from 5 pm CEST.   
A great way for prospective students interested in pursuing a Part-time MBA to learn more about the Luiss Business School's MBA programme in Milan designed to surface the leadership potential within so you may position yourself among the protagonists of the business community in the pursuit of a richer understanding, more creative tactic and a smarter solution-oriented approach.
The event allows candidates to take part in a Masterclass with the Director of the programme on how to boost your self-awareness and build your personal branding through the MBA experience.
You can also take part in one-to-one orientation sessions with the MBA Coordinators and the Recruitment Staff for more details.
WHEN: 18 July 2022 from 05.00 pm – 07.30 pm CEST
WHERE: Milano Luiss Hub, Via Massimo D'Azeglio 3 – 20154 Milan
AGENDA & SPEAKER
17:00/17.30 Presentation of MBA programmes held by Maria Isabella Leone, MBA Academic Coordinator
17:30/18:30 Masterclass held by Valeria Pardossi, Part-time MBA Milan Director
18:30/19:30 One-to-one orientation sessions
Registration is required.
6/30/2022
Publication date
June 30 2022
Publication date
June 30 2022