LUISS Business School - Sala delle Colonne - Viale Pola, 12 - 00198 Roma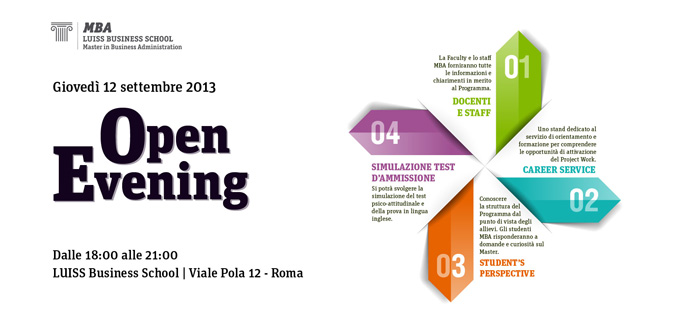 Wish to get to know the Master in Business Administration and the Masters of the International area of LUISS Business School more in detail?  
We understand that signing up for an MBA or a Master is an important decision, and we want to give you the opportunity to gather all the information you need to enable you to reach your decision.
This is why we would like to invite you to:
meet the staff, students and alumini, the international activities and career office managers, as well as the Master coordinators.
sit with them, clear your doubts and discuss your ideas.
And if you have already made up your decision, you can come and discuss the recruitment steps and experience a simulation of the selection test.
Come and meet us at the next MBA & Master Open Evening Event, that will take place at LUISS Business School (Viale Pola, 12 – Rome) , Sala delle Colonne, Thursday the 12th September. The event is open-doors: you may come at any time, from 6 to 9 pm.
Data
19 September 2013 - 18:00