Raffaele Oriani: It is a great achievement that recognizes us as a unique, smart, flexible learning platform with an impact, and drives us to challenge ourselves even more to be a reference point in the Higher Education ecosystem.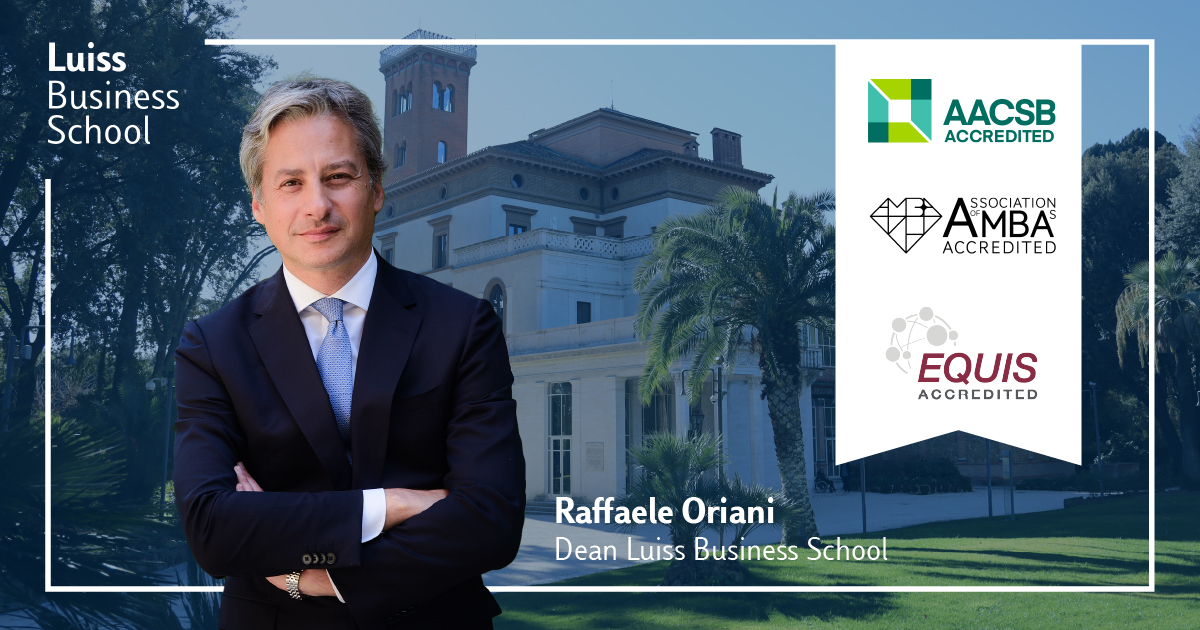 Luiss Business School has achieved the AACSB accreditation, a distinguished hallmark of excellence in management education. Established in 1916, AACSB is the longest-serving global accrediting organization for business schools and among the world's most renowned business education alliances. Being awarded AACSB, Luiss Business School holds the three most prestigious accreditations for business education.
Schools that achieve all three accreditations, the European EQUIS (European Quality Improvement Systems), the American AACSB (The Association to Advance Collegiate Schools of Business) and the British AMBA (The Association of MBAs), are called Triple Crown Schools.
Less than 1% of business schools worldwide have achieved triple accreditation. This remarkable feat demonstrates Luiss Business School's commitment to achieving the highest quality standards and being a cutting-edge institution in the higher education ecosystem.
Professor Raffaele Oriani, Dean of Luiss Business School, comments on the achievement: "We are very grateful to AACSB, as the accreditation process has challenged us deeply and allowed us to improve exponentially. It has been a great learning experience for us, at all levels, and we are aware the journey is just at the beginning as we truly believe continuous improvement should be a journey, not a destination".
Professor Oriani, Luiss Business School has been awarded AACSB accreditation: why is it such an achievement?
Achieving accreditation is a process of rigorous internal focus, engagement with an AACSB-assigned mentor, and peer-reviewed evaluation to assess whether Luiss Business School meets the quality standards and purpose of the AACSB Accreditation process.
What has driven us in this journey is our ambition to nurture creative, resilient leaders capable of facing the social and economic challenges that await them. Here at Luiss Business School we provide our stakeholders with a lifelong, continuous learning ecosystem, a boundless space, open to anyone who has the curiosity and determination to make a difference.
We design our game-changing programmes embedding a managerial learning experience that values the economic, social and human capital, as well as a transformative path and a knowledge production attitude. The recognition we receive from AACSB as well as the ones from the other accreditation bodies, shows just how relevant and effective Luiss Business School is in empowering the growth and transformation of our stakeholders, in inspiring people to thrive together as a community.
This achievement recognizes the process of transformation, change and improvement that is embedded as a trait of Luiss Business School's DNA and will drive us to leap forward to meet the challenges ahead.
And what does it imply?
Being awarded AACSB, Luiss Business School holds the three most prestigious accreditations for business education, thus joining the top 1% of business schools worldwide recognised as "triple crown" accredited schools.
This long journey started in 2015, with EQUIS accreditation, and went on with AMBA in 2020. These accreditations are a global benchmark of quality and ensure that our programme portfolio will be recognised throughout the world for its value, degree of innovation and relevance for its stakeholders, including institutions and corporate partners. They are the official confirmation of the quality of our organisation, our faculty and staff, our educational model, and the overall approach to all School initiatives.
It implies a continuous effort in monitoring processes, evaluating performances, scouting cutting-edge tools and initiatives to participate in. It is a never-ending commitment to continuous improvements to provide our stakeholders with a managerial learning experience of the highest quality. In doing so, we are committed to ensuring a cooperative and stimulating environment, directly engaging with all our stakeholders, and leveraging our multi-hub structure. By involving a heterogeneous set of players in our strategic and operative decision-making processes, and by adopting a logic of co-creation and co-design, we ensure diversity in the approaches to – and assets available for- the School's strategic development.
Business education: its value is often questioned. What is Luiss Business School's response to the higher education demand of future "leaders for a better world"?
Our goal is to generate positive effects for communities at the local, national, and international levels. So, we are investing even more in providing students with deeply transformative learning journeys, enriching their paths not only by providing skills and competencies but also by promoting positive values and by constantly offering them new opportunities for personal and professional growth.
Our commitment to educate "leaders for a better world" is not just a quote but the thread that binds us together. Our mission is to contribute to the development of management education by engaging with both local and global business communities, fostering the debate on societal impact, and promoting the idea that knowledge production, innovation, education, collaboration, and networking are crucial steps in the sustainable evolution of the higher education ecosystem.
At Luiss Business School students are constantly challenged in their expectations, equipped with lifetime opportunities, immersed in a supportive, stimulating environment and exposed to collaborative, real-world scenarios that test and stretch their creativity and resilience.
The School nurtures a tradition of developing business leaders who will have a positive impact on society and serve the community with their respect for the principles of ethics, sustainability, and responsibility.
Our commitment for the future is to be part of the group of changemakers in management education – and to generate momentum to develop initiatives that have a meaningful and sustainable impact.
3/08/2023
Data pubblicazione
3 Agosto 2023
Data pubblicazione
3 Agosto 2023