LUISS Business School - Aula 12 - Viale Pola, 12 - 00198 Roma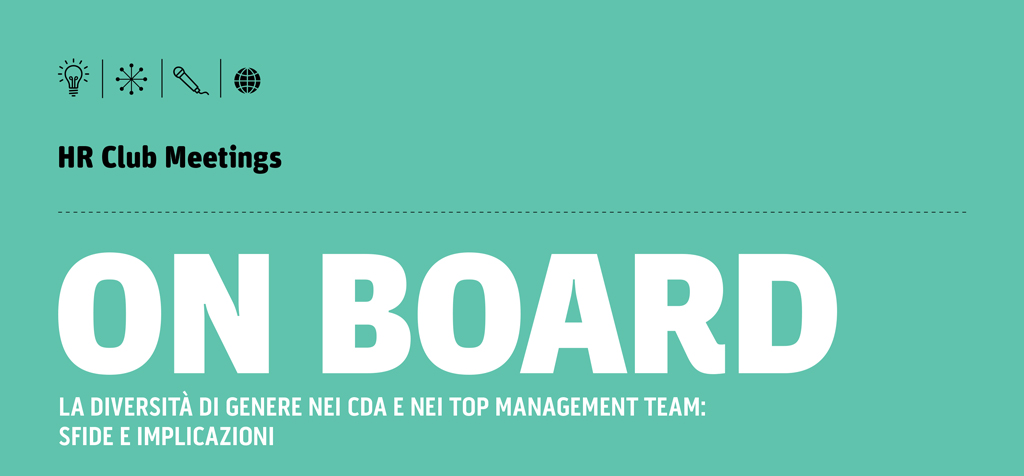 The gender diversity in the Board of Directors and in top management teams: challenges and implications
---
What are the HR club meetings?
The meetings aim to compare and share best practices and experiences through a cycle of thematic seminars that focus on relevant issues Human Resources Management and Organisation field. The main purposes of these meetings are:
foster the sharing of best practices and experiences
offer to participants opportunities to develop their own professional network
learn from excellent organisation models
These meetings, free on invitation, are addressed to our community of alumni, professionals, consultants and managers who operate in the Human Resource Management and Organisation field
The meetings framework
Each meeting focuses on a specific topic. The purpose is to illustrate why the topic is interesting from a HR perspective and what are the main open issues in the managerial research and practice.
Programme (the event is in Italian)
ON BOARD – The gender diversity in Boards of Directors and in top management teams: challenges and implications
How important is gender diversity at senior levels for company performance?
Do more women on the board mean better corporate governance quality and effectiveness?
Does having women at the top contribute to transform managerial culture and break the glass ceiling?
Welcome Speech
Marcella Corsi, Sapienza University of Rome
Silvia Profili, Università Europea di Roma e LUISS Business School
Guest Speakers
Marcella Corsi, Sapienza Università di Roma
Silvia Profili, Università Europea di Roma, LUISS Business School
Giampiero Giacardi, Autostrade per l'Italia
Cocktail
Contacts
People Management Competence Centre LUISS Business School
Prof. Alessia Sammarra
T. 3282487424
email: asammarr@luiss.it
The event (in Italian) is free and open to all upon registration .
Date
July 14 2015 - 18:00
Date
July 14 2015 - 18:00