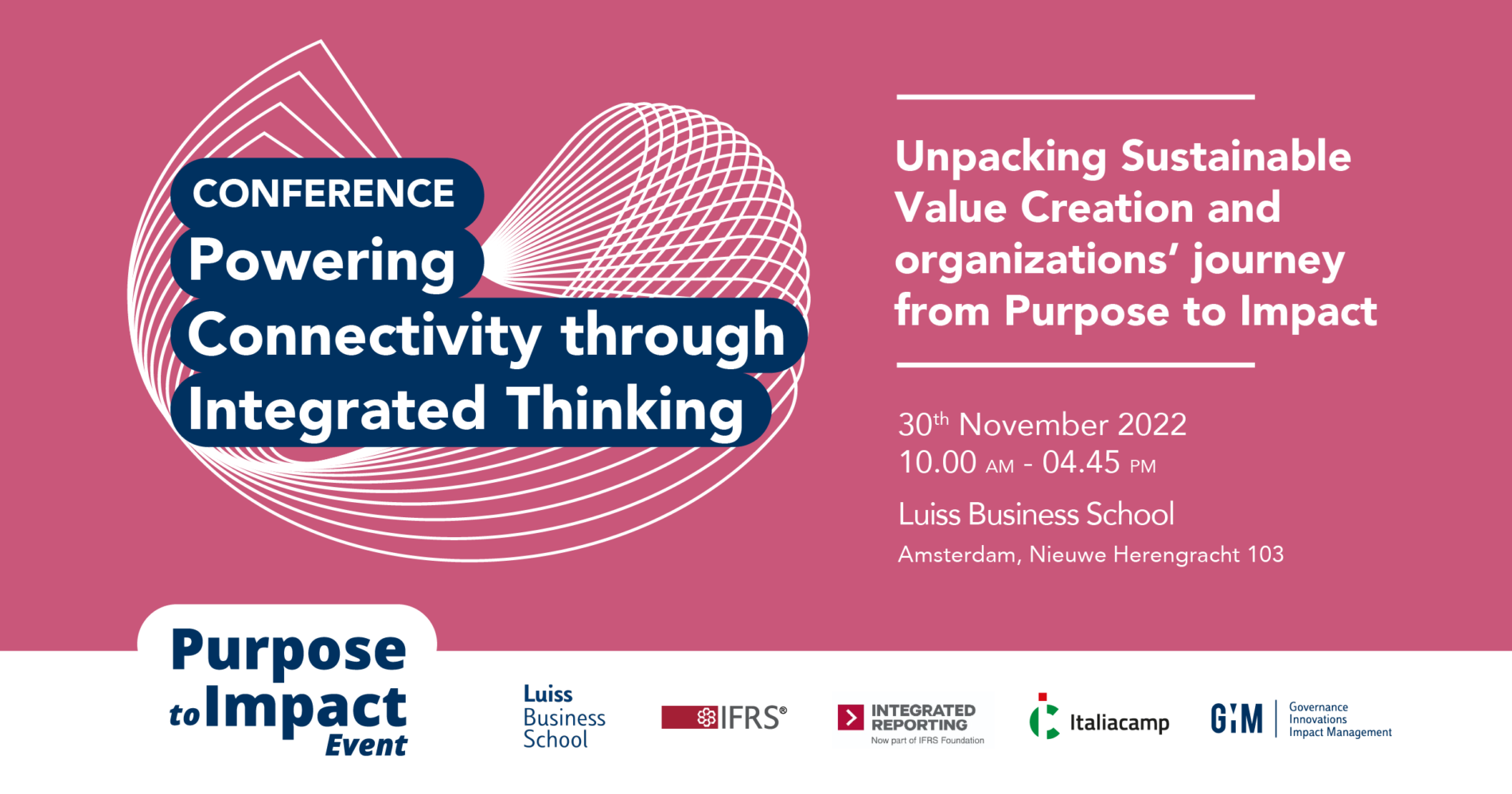 Organized by IFRS Foundation in collaboration with Luiss Business School in Amsterdam, and benefiting from the support of Italiacamp, the aim of the Conference "Powering Connectivity through Integrated Thinking" (Amsterdam, 30th November 2022) is to engage relevant stakeholders to critically discuss about Sustainable Value Creation and Impact, Connectivity and Integrated Thinking, Sustainability and Integrated Reporting.
Hosted by Tjeerd Krumpelman (ABN AMRO and IFRS Foundation) and Cristiano Busco (Luiss Business School and IFRS Foundation), the following, among others, will be speaking at the Conference: Veronika Pountcheva (Board Member, ISSB), Robert Swaak (CEO, ABN AMRO), Sonja Haut (Head Impact Valuation, Novartis), Wim Bartels (EFRAG, Sustainability Board member), Sandra Schoonhoven (Lead Climate Risk Initiative, ING), Babs Dijkshoorn (Director CSR & Sustainability, Achmea), Jonathan Labrey (IFRS Foundation).
In addition, the Conference will feature speakers from World Benchmarking Alliance, EY, Deloitte, PWC, KPMG, Vastned Retail, Ahold, CIMA-AICPA and many other organizations.
To secure your place, please register NOW.
Program
10.30 Welcome and Institutional Greetings
Tjeerd Krumpelman, Global Head of Advisory, Reporting & Engagement at ABN AMRO Bank and Chair of the Integrated Thinking and Strategy Group at IFRS Foundation
Josè D'Alessandro, Head of Business at Luiss Business School Amsterdam Hub
10.45 From Purpose to Impact – The Model
Cristiano Busco, Full Professor of Accounting, Reporting and Sustainability at Luiss Business School Rome and Co-Chair of the Integrated Thinking and Strategy Group at IFRS Foundation
11.00 A year into ISSB – Building the global baseline through interoperability, capacity building and connectivity
Veronika Pountcheva, Board Member at ISSB
11.15 The opportunities and challenges in the Corporate Reporting Landscape – A conversation with the experts
Jan Niewold, Lead Partner Climate Change and Sustainability Services at EY
Joukje Jansen, Partner ESG at PwC
Mark Vaessen, Partner, Head of Professional Practice at KPMG
Wim Bartels, European Sustainability Senior Partner at Deloitte and Member of the Sustainability Reporting Board at EFRAG
Moderator: Liz Prescott, Technical Director at the IFRS Foundation and Director at KPMG Australia
12.00 Fostering sustainable value creation through integrated thinking – A systems transformations perspective
Gerbrand Haverkamp, Executive Director at World Benchmarking Alliance
12.20 Powering connectivity – The role of integrated thinking and integrated reporting
Jonathan Labrey, Chief Connectivity and Integrated Reporting Officer at the IFRS Foundation
12.40 Corporate Reporting in the EU – A spotlight on current and future developments
Wim Bartels, Member of the Sustainability Reporting Board at EFRAG and European Sustainability Senior Partner at Deloitte
13.00 Lunch
14.00 The Integrated Thinking Principles from purpose to performance through the lens of a CEO – Q&A session with Robert Swaak
Robert Swaak, CEO ABN AMRO
Moderator: Elena Sofra, Integrated Thinking Manager at the IFRS Foundation
14.20 The Integrated Thinking Principles – evidence from the field on key integrated thinking business processes
Babs Dijkshoorn, Director CSR & Sustainability at Achmea
Cora Olsen, Vice President, Sustainability & Regeneration at Better Energy
Kavita Nandram, ESG Reporting Manager at Ahold Delhaize
Sandra Schoonhoven, Lead Climate Risk Initiative at ING
Simon Theeuwes, Member of the Executive Committee of Vastned / Investor Relations
Moderator: Elena Sofra, Integrated Thinking Manager at the IFRS Foundation
15.00 The ESG Data Challenge
Erik Breen, Sustainability Advisor at Visma
15.15 Evolutions of the managerial accounting profession
Jeremy Osborn, Global Head of Sustainability at AICPA – CIMA
15.30 Driving value creation through impact measurement
Sonja Haut, Head Impact Valuation at Novartis
15.50 Impact measurement – The state of play
Arjan Udding, Director at Impact Institute
Moderator: Tjeerd Krumpelman, Global head of advisory, reporting & engagement at ABN AMRO Bank and Chair of the Integrated Thinking and Strategy Group at IFRS Foundation
16.30 Closing Remarks and End of Conference
23/11/2022
Publication date
November 23 2022
Publication date
November 23 2022