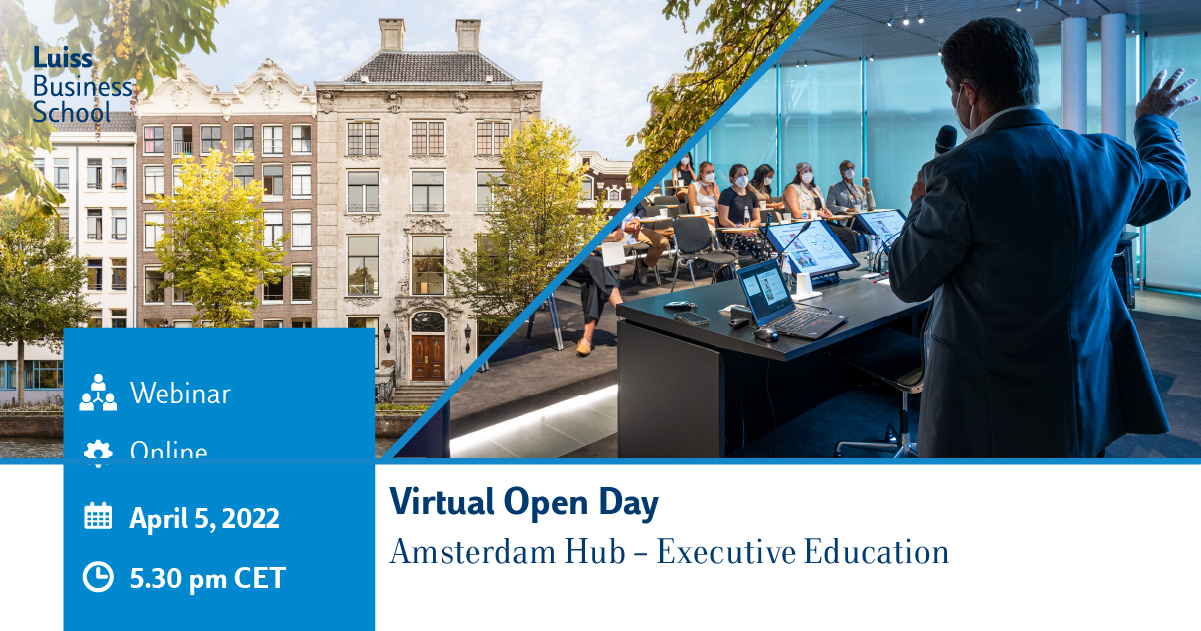 The Virtual Open Day is the event dedicated to the Executive Education offered by Luiss Business School in English at the Amsterdam Hub and online.
The online event will be focused on the presentation of the programmes' portfolio intended for entry, middle and senior level management professionals willing to maximise their business impact thanks to a top-level business education.
During the virtual event, you will explore the variety of programmes' formats designed to meet participants' tight work schedule, personal commitments and professional expectations, and discover which international certificates and executive diplomas you can earn at Luiss Business School.
WHEN: 5 April 2022, from 5:30 pm CET
WHERE: Online
What to expect?
Get an overview of the International Executive Programmes offered by Luiss Business School.
Understand how Luiss Business School Executive Education can impact on your career and professional growth.
Experience a personalised orientation service thanks to Breakout Rooms organised in small groups where you can deepen specific topics and get live answers to questions and curiosities.
Network with Luiss Business School Staff based in Amsterdam and get a deeper understanding of the happenings within different markets and industries.
Agenda
5.30 pm CET: Introduction to Luiss Business School and International Executive Programs held by Alessandra Perri, Associate Professor of Management, and Academic Coordinator International Executive Education Luiss Business School and Joris Ebbers, Full Professor of Entrepreneurship and Innovation, and Academic Dean Luiss Business School's Amsterdam campus.
6.00 pm CET: Breakout rooms (Admission process; Fees & Funding Jump in Amsterdam: take some insights about our new International Hub; Executive Programme in Luxury & Fashion Management; Executive Programme in International Pharma and Healthcare Administration; Executive Programme in Food & Beverage Management; Executive Programme in Hospitality Management; Executive Programme in Open Innovation & Intellectual Property; Executive Programme in Circular Economy Management; Flex Executive Programme in in Negotiation; Executive Programme in Fundamentals of Accounting & Finance; Flex Executive Programme in Strategy in Disruptive Times; Flex Executive Programme in Fintech)
Publication date
February 28 2022
Publication date
February 28 2022