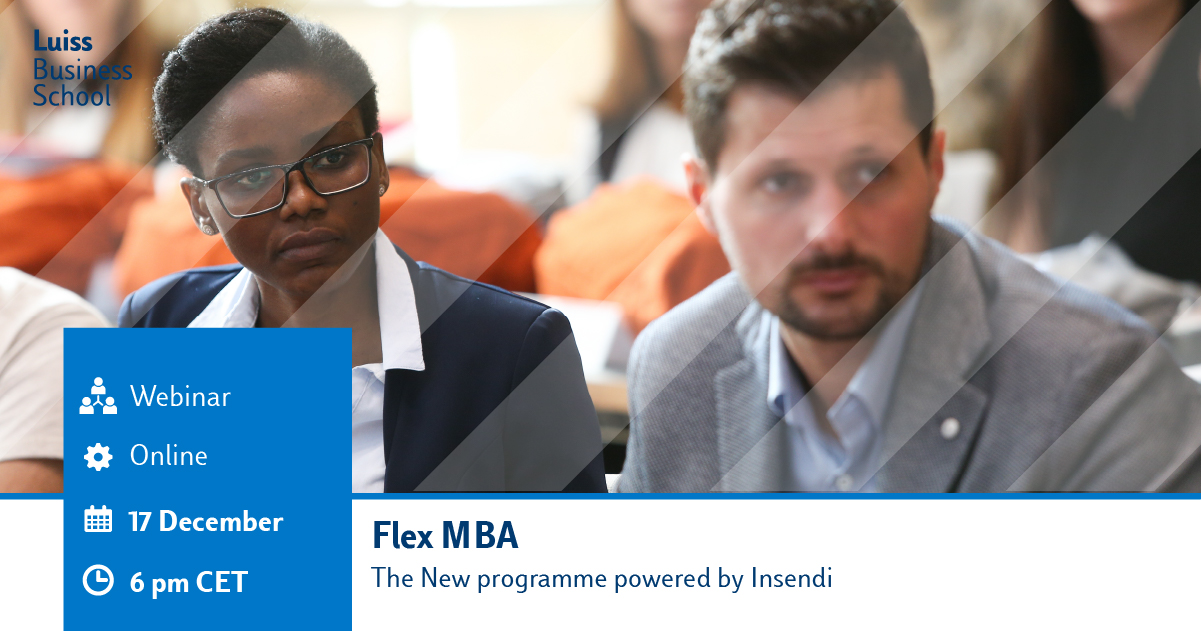 Introducing the new Flex MBA, a programme designed to fit your work schedule anywhere, anytime, anyplace. Sign up now to meet the minds behind the Programme and discover this new form of MBA powered by INSENDI, leaders in online and blended learning for global higher education.
The topic of the webinar
On Friday, December 17, 2021 at 6.00 PM CET, we invite you to participate in the online presentation of the Flex MBA, powered by INSENDI Platform, that paves the way for a new interactive and global approach to acquire an internationally recognised and accredited MBA.
Attending this webinar will give you the chance to hear about the Programme, the didactic approach, and the opportunities dedicated to you as a Flex MBA student.
You will virtually meet Maria Isabella Leone, Director of the Programme, who will take you through the thought process behind this new form of education, designed to maximise outreach with students worldwide and top local and International Professors. But that's not all the Flex MBA has to offer. To discover the rest, join the conversation!
You will also meet the MBA Coordinator who will answer any and all questions concerning the Programme structure, the admission process, and available scholarships.
Agenda and Speakers
6 PM CET | Greetings and Flex MBA highlights by Maria Isabella Leone, Programme Director
6:45 PM CET Q&A Session with Gabriella Di Benedetto, Programme Coordinator
7/12/2021
Publication date
December 7 2021
Publication date
December 7 2021