Graduation is a moment to celebrate the passage from MBA students to MBA Alumni.
As MBA students, they shared their studies, the commitments and the demanding activities required to acquire further knowledge and values, growing both personally and professionally. As graduating students, they will become members of a community of future leaders.
The Graduation Day is the day for the graduates and their families to feel the excitement of all these talents entering in our society.
LUISS Business School is glad to host Giorgio Milesi, Head Southern Europe Johnson & Johnson Medical, that will hold the MBA inspirational talk.
---
Guest Speaker bio
Giorgio Milesi is Head Southern Europe Johnson & Johnson Medical.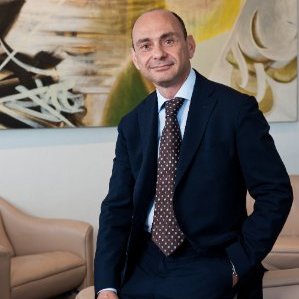 Born in Rome, Italy, Giorgio is 52 years old. He holds a degree in Economics from LUISS University in Rome, and while graduating in Italy he has attended MBA classes at the University of Minnesota as a scholarship student from the RUI Foundation in Italy. His work experience spans across all three key segments in which the Company operates (Consumer, Pharmaceuticals, Medical Devices), as well as across different product categories (primary, specialty and OTC in Pharmaceuticals, general surgery and specialty surgery in Medical Devices, basic goods and beauty goods in Consumer), countries (developed and emerging), and roles (local geography and regional/global franchise).
Giorgio started working for Procter & Gamble in 1989, and quickly rose in the marketing function until becoming Marketing Manager Western Europe for Home Care Products in 1995. In 1997 he was promoted to Marketing Director Turkey and Turkish Republics for Health and Beauty Care, and in 1999 he took the responsibility of Marketing Director Western Europe for Home Care and Global Strategic Planning for the Swiffer brand. Promoted to Managing Director Italy for Pharmaceuticals in 2001, he subsequently added to this responsibility the management of a cluster of countries part of the alliance with Sanofi-Aventis in Osteoporosis.
In 2007 Giorgio left Procter & Gamble and became Vice President and General Manager Bristol-Myers Squibb Italy. He then joined Johnson & Johnson in September 2008 as Managing Director Ethicon Endo-Surgery for Italy. This responsibility was broadened to include Greece and Israel in 2010, subsequently also the Ethicon Franchise for the same cluster of countries and in 2013 was promoted Regional Vice President Global Surgery for the Mediterranean Cluster.
In 2015 Giorgio was promoted to assume the current job responsibility.
09/12/2016