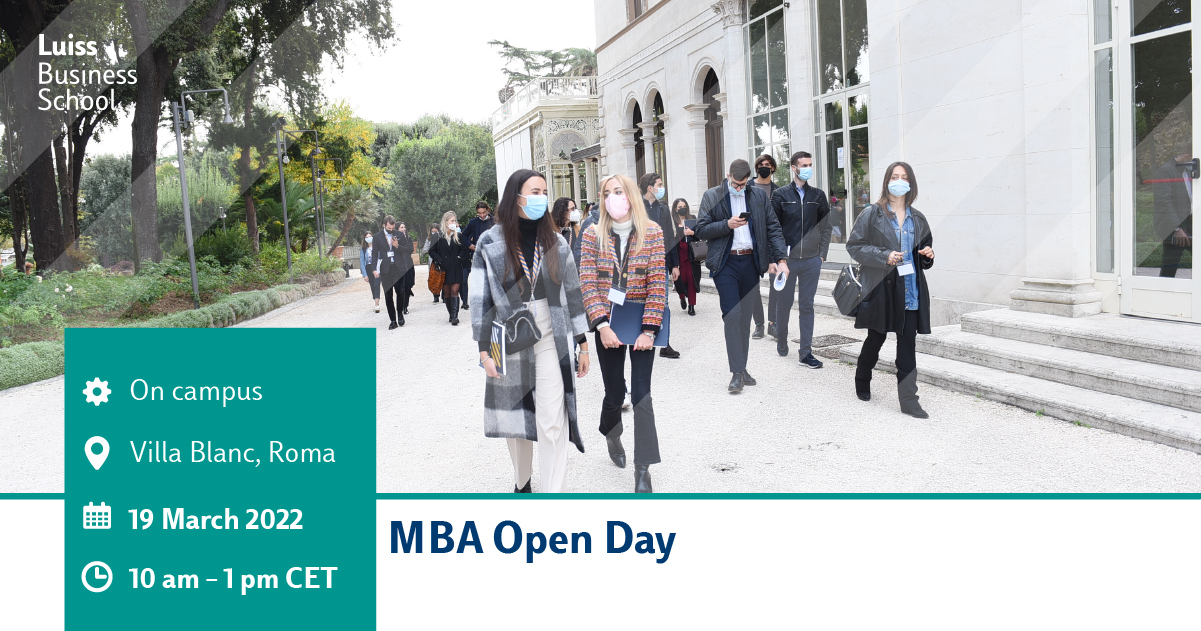 The MBA Open Day is the on-campus event devoted to the presentation of all MBA programmes offered by Luiss Business School in 2022.
The MBA is the most exclusive growth path for professionals and Executives. Full-time, Part-time, Online, On Campus or Blended in Rome or Milan hubs. Choose the formula that allows you at best to build your personalised professional growth project.
During the event you will:
Participate in a presentation to learn more about the peculiarities of each MBA format.
Attend a Masterclass and experience first-hand the MBA class experience.
Book a personalised info session with MBA coordinators, coaches, career advisors and MBA Alumni to get orientation and find the format that best suits your profile and career expectations.
WHEN: 19 March 2022 from 10.00 am CET
WHERE: Luiss Business School, Campus Villa Blanc, Via Nomentana 216, 00162 Rome
AGENDA & SPEAKER
10.00 – 10.15 Registrations
10.15 – 11.00 Presentation of MBA programmes held by Isabella Leone, MBA Academic Coordinator
11.00 – 11.45 Masterclass "While Most People Go Through Life, Leaders Grow Through Life: How an MBA at Luiss Will Help You Become an Effective Leader" held by Tony Silard, Ph.D., Professor of leadership and Director of the Center for Sustainable Leadership, Luiss Business School
11.45 – 12.00 Q&A Session
12:00 – 13:00 One-to-one orientation sessions
The event is free of charge and will take place from 10 a.m. to 1 p.m. In compliance with Covid safety regulations, the Super Green Pass Certificate is mandatory to participate. Registration is required.
For the protection of all Open Day participants, please note that ffp2 masks must be worn throughout the event. At the entrance to the venue, staff will take your temperature and hand sanitisation points will be available.
2/22/2022
Publication date
March 8 2022
Publication date
March 8 2022