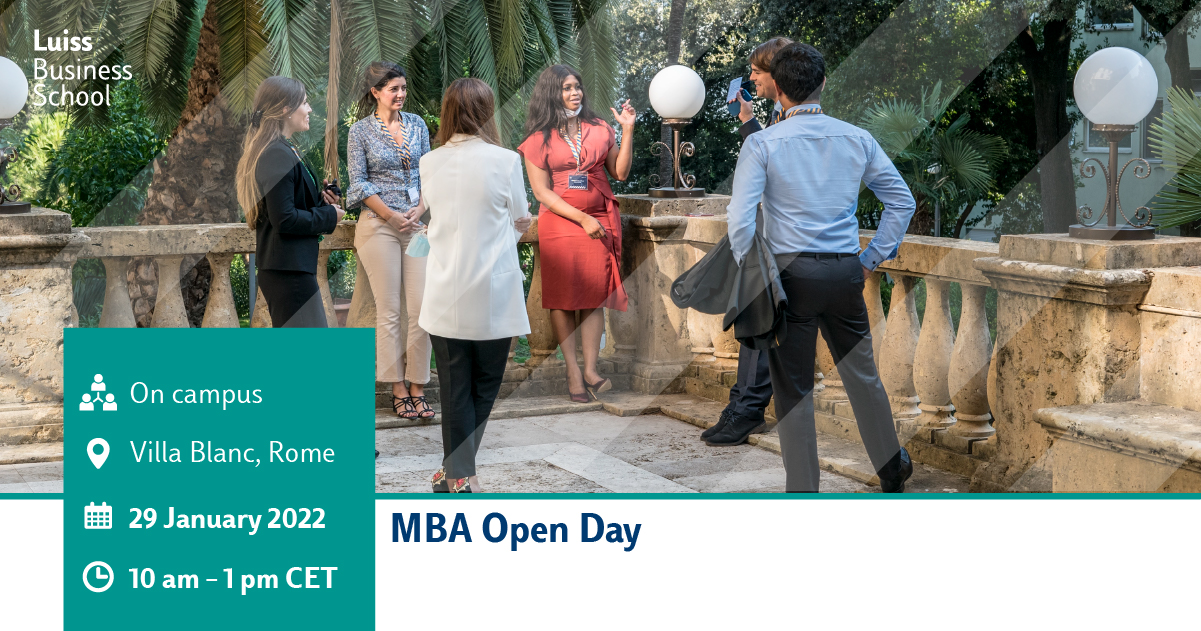 Attend the presentation event and explore all MBAs starting in 2022.
The MBA is the most exclusive growth path for professionals and Executives. Full-time, Part-time, Online, On Campus or Blended in Rome or Milan hubs. Choose the formula that allows you at best to build your personalised professional growth project.
WHEN: 29 January 2022 from 10.00 am CET
WHERE: Luiss Business School, Campus Villa Blanc, Via Nomentana 216, 00162 Rome
AGENDA & SPEAKER
10.00-11.00 Presentation of MBA programmes
11.00 – 11.45 Masterclass held by Lorenza Morandini, Adjunct Professor di Supply Chain e Innovation, Luiss Business School
11.45-12.00 Q&A Session
12:00 – 13:00 One-to-one orientation sessions with the Staff
The event is free of charge and will take place from 10 a.m. to 1 p.m. In compliance with Covid safety regulations compliance, the Super Green Pass Certificate is mandatory to participate. Registration is required.
For the protection of all Open Day participants, please note that masks must be worn throughout the event. At the entrance to the venue, staff will take your temperature and hand sanitisation points will be available.
An MBA to respond to the needs of each professional
From young professionals to middle-managers and C Levels, we design our MBA to match the different needs and expectations of each generation of students. Thus, no matter your current situation, if you want to grow, Luiss Business School has the right MBA to boost your potential.
Full Time MBA – for young professionals and middle-managers with at least 3 years of work experience, who want to gain valuable tools to grow new business ideas, understand social issues and develop the ability to create change.
Part Time MBA – for managers, entrepreneurs, start-uppers and professionals who are ready to expand their career prospects without sacrificing their present work and life commitments. Students may choose to attend either at Luiss Business School Campus in Rome or in Milan.
Executive MBA – for tenured professionals and managers, C-Level and experienced entrepreneurs looking to boost their competences and professional growth towards a Leadership in line with the latest market trends.
Flex MBA – for professionals worldwide with at least 4 years' work experience who wish to improve their professional skills, boost their careers and manage the innovative and competitive skills required by the market, from the comfort of their own home/office.
21/12/2021
Publication date
December 21 2021
Publication date
December 21 2021