Emilio Iodice, Professor of Leadership at Loyola University Chicago shared his piece of advice about leadership and how to develop leadership skills with Luiss Business School students, within the Leader for Talent – #L4T initiative.
"For students of today as well as students of tomorrow the first suggestion that I have for them to deal with both the problems and opportunities of today is to be courageous and to get out of their comfort zone and to develop a love of learning everything. If they're going to be leaders they're going to have to learn how to communicate very well at all levels. It's an art as well as a science. So, being able to be courageous, communicate well, develop strong emotional intelligence".
What is emotional intelligence?
"That's the ability to stay calm even in difficult moments, to empathize with others to develop your own self confidence and to respect others all at the same time. They need to develop emotional intelligence and to work to predict the future thinking about it constantly. Where the ball is going to bounce? What is up ahead? This is the way you prepare yourself as a leader mentally, to also develop good leadership qualities. You must develop presence: some call it Charisma. Charismatic leaders enter a room and you simply know that they are, sthere you learn how to conduct yourself, you learn how to speak, you learn how to deal with each individual.
What is the most important thing in leadership today and tomorrow?  
"I think it is a larger vision and the awareness to be part of something that is bigger than ourselves. No matter what the job is, to consider yourself something important in the scheme of that big picture and develop a meaningful life and a meaningful life will be a life of leadership".
---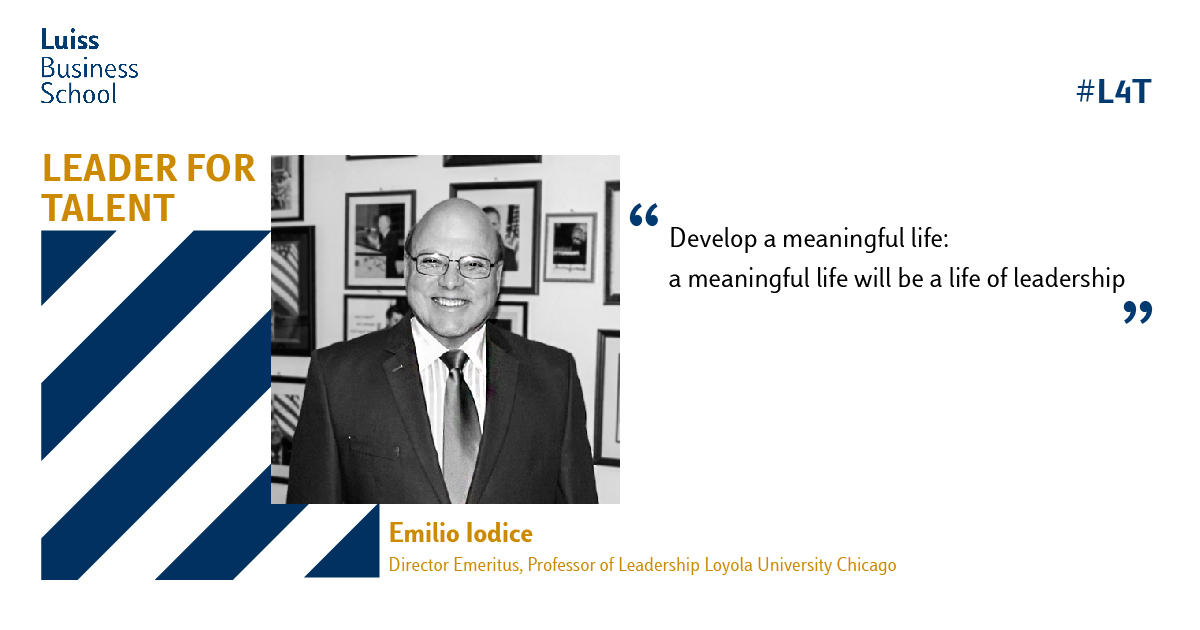 Emilio Iodice, Director Emeritus, Professor of Leadership Loyola University Chicago, John Felice Rome Center. Former Executive and US Diplomat. Award Winning Author, Public Speaker and Presidential Historian. 
Emilio Iodice was born in the South Bronx in 1946. He was the son of immigrants from the island of Ponza in Italy. He grew up in a truly bi-cultural environment: living in Little Italy and America at the same time. He worked full time while studying to pay for his education from elementary school to graduate school and still managed to complete his studies at the top of his class.  Iodice received his BS in Business from Fordham University, his MBA from the Bernard Baruch School of the City University of New York and was named to BETA GAMMA SIGMA, the honorary society of distinguished graduates in Business. He conducted doctoral work in international business and applied finance at George Washington University in Washington, DC.
Iodice spent over four decades as a senior executive in the public and private sectors, as an educator and as a university administrator. Those forty years of experience included being a key official in Washington working for several Administrations, reaching the top ranks of the civil service and the diplomatic corps. He was among the most decorated officers in American history with a Gold Medal for Heroism, a Gold Medal and Silver Medal for Exemplary Service, nominations for the Bronze Medal and numerous commendations and citations. He served as Minister in key US missions abroad including Brasilia, Mexico City, Rome, Madrid and Paris and departed after being named to the list of future Ambassadors.
Among his honors were being knighted by the former King of Italy and also named an honorary Guard of the Pantheon and a Senator for the Royal Family. He received Medals of Honor from Spain and Italy. At age 33, he was named by the President of the United States to the prestigious Senior Executive Service as a Charter Member. He was the youngest career public official to reach this distinction. Before joining Loyola he was Vice President of Lucent Technologies in charge of operations in numerous countries and later taught full time as an Assistant Professor at Trinity College in Washington, DC. He joined Loyola in 2007 as Director of the John Felice Rome Center. After one year he was promoted to Vice President. After serving for nine years as Vice President and Director, he was awarded the title of Director Emeritus and Professor of Leadership on June 30, 2016.
He spoke several languages and traveled across the globe. His passions in life were writing and educating others; assisting those in need;  the Loyola Rome Center, its students, faculty and staff; good music; reading; his family and, in particular, his four grandchildren and god children. His academic field of study was "leadership."
He wrote and published numerous peer reviewed articles on leadership in the Journal of Values Based Leadership of Valparaiso University in Indiana that have been read across the globe.  He was also a member of the Editorial Board of the Journal and is a member of the Board of Regents of Marymount International in Rome, Italy.  In 2019, he was given the prestigious Premio Imagine (Image Award) to honor his contributions in the field of diplomacy, international relations and leadership.
In 2012 his bestselling book on tenor Mario Lanza was published entitled, "A Kid from Philadelphia, Mario Lanza: The Voice of the Poets." In 2013 his second book, "Profiles in Leadership from Caesar to Modern Times" was published by North American Business Press along with "Sisters," the story of two extraordinary people, his mother and aunt. In 2014 he published "Future Shock 2.0, The Dragon Brief 2020," and "Reflections, Stories of Love, Leadership, Courage and Passion." In 2016 he launched, "2016, Selecting the President, The Most Important Decision You Will Ever Make. 2016." In 2017, his new book was published: "When Courage was the Essence of Leadership, Lessons from History, reached number one bestseller status in the world in the field of leadership. In 2019, the new edition of the book was launched with equal success.  Profiles in Leadership from Caesar to Modern Times and Reflections were translated into Italian and published in 2017 and immediately reached best seller status.
In March, 2019, the Iodice Leadership Center was established in St. Barnabas High School in the Bronx to train young female students in the art and science of leadership.
11/11/2019 
Publication date
November 11 2019
Publication date
November 11 2019