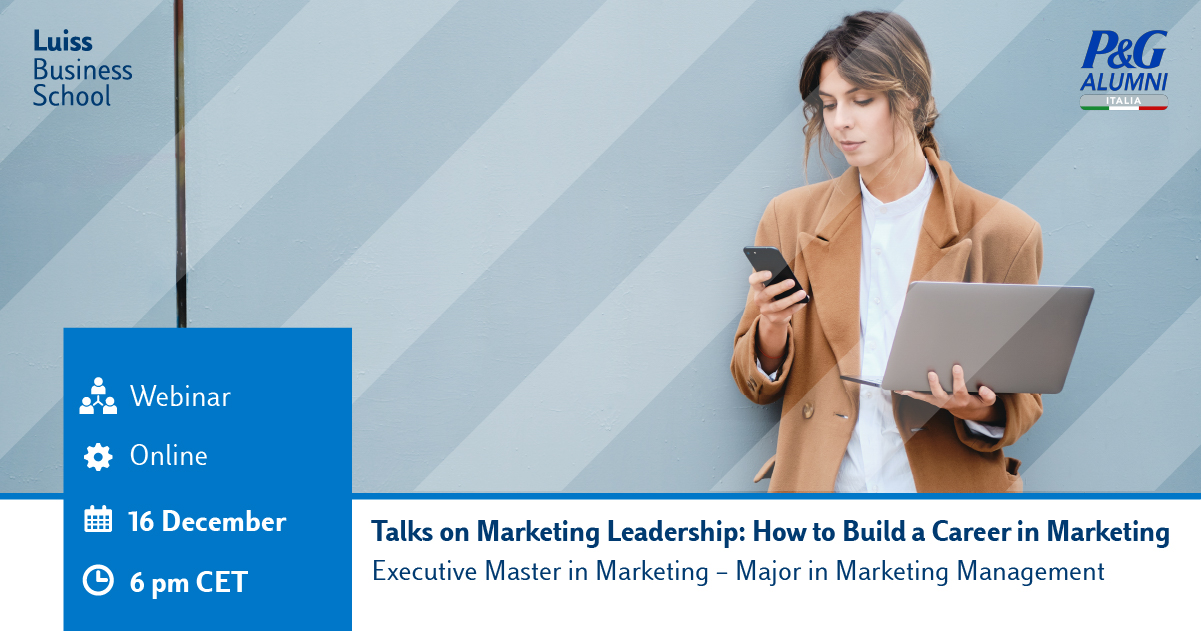 Luiss Business School, in collaboration with the association P&G Alumni Italia, invites you to join on December 16 at 6 pm CET the webinar during which Prof. Marco Francesco Mazzù, Scientific Director of the Executive Master in Marketing – Major in Marketing Management, meets, today senior manager in the Marketing field.
The topic of the webinar
The digital event represents an opportunity for discussion and understanding common perceptions on how education directly affects the path of career progress and success. In particular, the features and benefits of the next edition of the Major in Marketing Management, starting on 21 January 2022, will be presented.
Speakers
Marco Francesco Mazzù – Scientific Director Executive Master in Marketing Management, Luiss Business School
Marzia Mastrogiacomo – Member, P&G Alumni & former Senior Vice President Business Unit Lotteries, IGT Lottery
Chiara Occulti – Vice President, P&G Alumni & former Chief Marketing Officer, Luxottica
All participants can directly interact with the speakers in a Q&A session.
Luiss Business School Staff will also be connected for any further details about the Master, the admission process, the scholarships and much more.
12/3/2021
Publication date
December 3 2021
Publication date
December 3 2021