The ItalianCanadian student chose the hybrid formula branded Luiss Business School to further his career.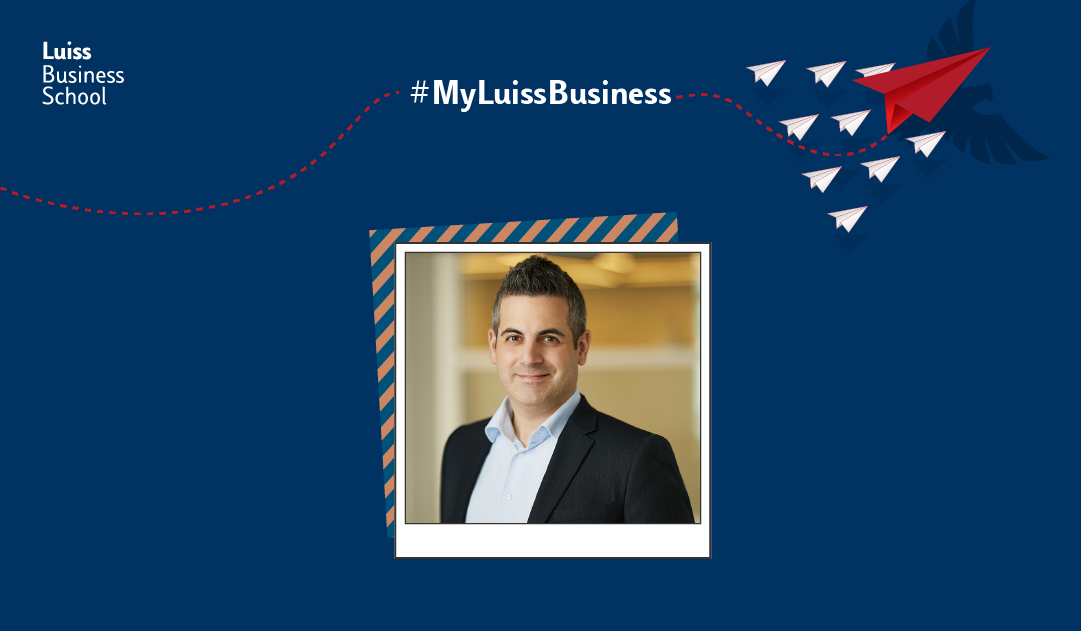 With Canadian mother and Italian father, David Del Re speaks both languages fluently and holds an Italian passport. He lives in Montreal, Canada, and always wanted to use his citizenship for something other than getting in the fast lane at the airport! He is an Associate for Investor Relations at Power Sustainable Capital, . A qualified and skilled finance professional with extensive experience in the industry, David has a strong background in client relations and financial markets, coupled with a strong creative spirit. He chose the Luiss Business School's Flex MBA to give more fuel to his "job motor", mixing personal and professional interests with a hybrid formula, easy to follow, that involved his passport too.
Why did you choose the Luiss Business School's Flex MBA?
I have an Italian passport and I always wanted to use it for studying or something a little bit different from travelling, even though the program is open to all students from across the world. Doing a full-time MBA would have been a challenge, so I was looking at doing something hybrid, online or part-time. I started doing some research and I found some business schools offering some hybrid MBA. I took a few meetings with recruiting representatives including Luiss, and I found that the recruiter from Luiss was the most engaging and very transparent in our discussions. The curriculum they offered also spoke greatly to me: it was a nice mix of my personal and professional interests. So, this made my decision for me.
You followed the training path from Canada: how would you describe this experience?
Actually, to my surprise, managing the courses has been quite easy. Because lessons are taking place from 5.30 pm to 8.30 pm, Italy time, being on a six-hour time difference, was in the middle of my day. So, I just worked around my lunch break and moved a few meetings around and rearranged my work schedule. I have to say that my office was exceptionally accommodating, which is a big plus.
Which is the course that has had the greatest impact on your career?
The Financial Accounting and Analysis courses were quite interesting, as it is something I've little experience in dealing with. At the same time, I have always thought they would be complicated notions, but the manner in which they were explained to us made me realize that this was not the case. The reality is that the quality of the professors is very high, which greatly facilitates online learning. Our final assessments made me realize that it was not as complicated as I have always thought it would be. It has been quite eye-opening, and I have much enjoyed that.
Was there any speaker that impressed you?
In my third and final elective course – on the topic of the energy industry, renewable energy, and the energy transition – we had the pleasure of listening to Lamberto Dolci, adjunct professor and ex-senior vice president of Eni. Having such a resource with his knowledge of the industry, and who was very passionate about the course made the whole topic very easy to relate to.
Soft skills, how did you manage to train them during the remote master?
During our last On Campus weekend, which was in January, we spent a day specifically covering soft skills. Professor Martina Pavone guided us through a variety of activities about emotional and personal connections. It was an interesting experience, and provided me with new insight into building human connections.
Competitiveness: how did you train this soft skill during your career at Luiss Business School?
Taking what we have learned on both class and our seminars, I am to integrate these lessons into my everyday life at the office.
Many alumni have experienced the value of the networking that is created at Luiss Business School. What has been your experience in relation to the Flex MBA?
Living in Canada, networking has been somewhat challenging. But once on campus I had wonderful opportunities to meet with other people from other programmes. There is Saturday Breakfast at Villa Blanc, a great forum to meet students from other programs. The elective courses and the Skill Labs bring together MBA students from all streams, which has been helpful in creating new relationships. So, the face of networking is different, but it comes out to the same positive result.
At Luiss Business School we work a lot on Leadership. What do you think it means to be a true leader?
I think that a leader motivates people towards a common goal. The leadership of Luiss Business school is very good at relaying this philosophy to the students and they have been good at instilling this in us.
Today you are Associate for Investor Relations in Power Sustainable Capital: how has the Flex MBA impacted your professional role?
The biggest advantage that it has given to me so far is that it helps me have 360 degree view of my company. Being a relatively young and small company, I often am obliged to work with many different teams, for whom I now have a better understanding of why decisions are made, of their consequences, and our strategy for growth. The programme gave me the tools to unlock those "mysteries" and understand why the company has taken certain decisions.
Do you think your career path will change again thanks to the Flex MBA? If yes, how, and why?
I hope so: that was part of the reason I signed up for the MBA. I want to give myself the potential to open new doors in the future. I am lucky: I work for a great company, but I also have a lot of interests outside of what I do. Who knows where the MBA can lead to?
What are your suggestions for future students – in and out of the classroom – on how to fully seize the opportunities of the Luiss Business School course?
You need to effectively manage your time because there is a lot of material to be absorbed. Do not assume that because the lesson is online, it ends there. Always keep an open mind: during the courses it may happen not to comprehend the utility right away, but after a couple of lessons with the same professor, you realize how to apply what you have learned in your daily life. And finally, just maintain a good attitude.
09/22/2023