Choosing an executive programme abroad is the starting point to enhance one's career. Here's why Amsterdam is the place to be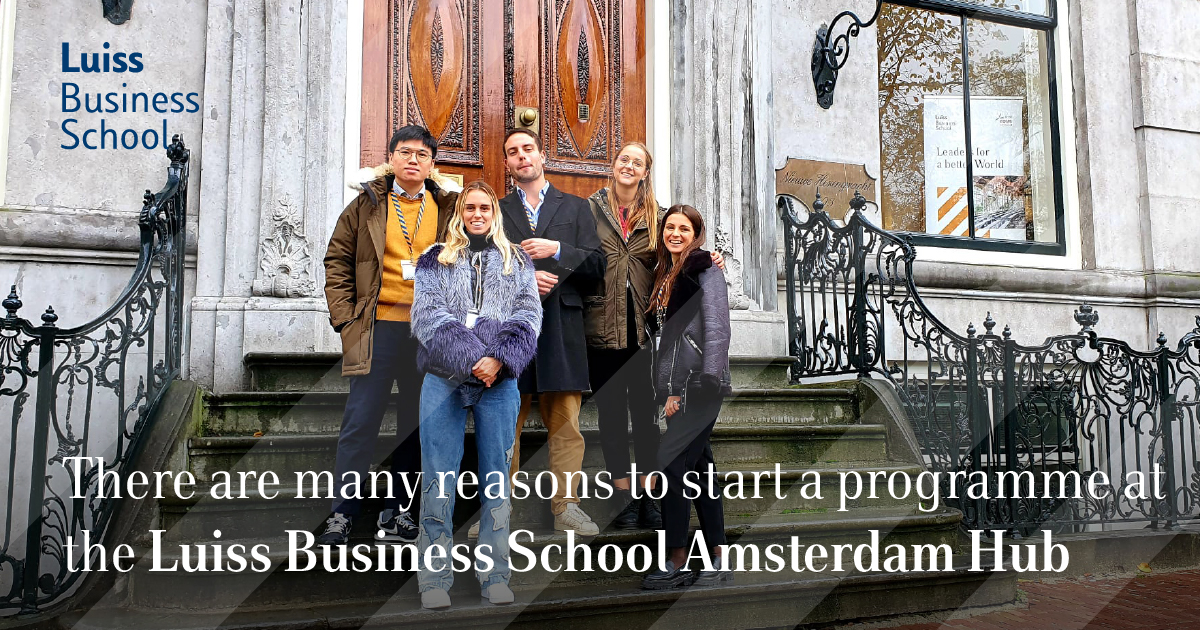 Health and pharma, sustainability, fashion and luxury, regional headquarters of global companies, an abundance of tech start-ups, and the international gateway to Europe: there are many reasons to start a programme at the Luiss Business School Amsterdam Hub. Enrolling for an executive programme is a way to improve your skills, expand your network and boost your career. Joris Ebbers, Full Professor of Entrepreneurship and Innovation and Academic Dean of the Amsterdam Hub, explains why in Amsterdam you can find the key to revolutionize your career.
Work and education: what are the main trends in Amsterdam?
A first trend regards data analytics and AI, which are important, especially in combination with business and statistical skills. Professionals need understand the value of data, how they can be analysed, and how they can support the business.
A second trend is sustainability and circular economy management. Because of potentially irreversible environmental trends, such as resource scarcity and pollution, the challenge is how we can be as economic as possible with our planet's resources, by using as little as possible and reusing as much as we can, and lower our dependence on non-renewable fossil energy.
A third trend is health, pharma, and biotech, due to the large Covid crisis. After the Brexit, the European Medicines Agency (EMA) of the E.U. moved from London to Amsterdam. This has further accelerated the development of a strong health, pharma, and biotech cluster around Amsterdam, with companies originating from many different countries around the world.
Which are the key points of the Luiss Business School Hub in Amsterdam?
There are a couple of focus areas.
One of them is creativity, which is of crucial importance in relation to artificial intelligence (AI). AI is very good at answering specific questions. However, we need creativity to produce valuable questions that we want AI to answer. For professionals, it is therefore very important to be aware of the need for human creativity, be more creative themselves, and learn how to manage creativity in organizations. That is why Luiss Business School in Amsterdam has a specific focus on creativity, creative skills, and creative leadership skills. But creativity also means entrepreneurship.
In addition, we need entrepreneurship to translate and transform new questions into valuable business opportunities. It is all about developing winning new business models that can solve problems or satisfy (latent) needs. For this, professionals also need leadership skills: you must have these skills to be sure that the organization is aware of the opportunities and threats it is facing, and support the organization to continuously adapt. For this, you not only need to foster creativity and entrepreneurship but also organizational change management skills.
What are other reasons for studying at Luiss Business School's Amsterdam Hub?
Amsterdam is a great city for business. The Netherlands is very well connected because of infrastructures like the harbour in Rotterdam (#1 in Europe) and Amsterdam airport (#3 in Europe).. In addition, but only few people know that Amsterdam is one of the biggest Internet exchanges in the world (#3 in Europe). A lot of the Internet traffic goes through the Amsterdam Internet Exchange (AMS-IX) . As a consequence, there are lots of economic activities around data and cloud computing
In addition, Amsterdam has a strong start-up ecosystem and is rising quickly on global startup rankings of best places to start or locate new companies. Besides regulatory reasons, and the fact that many Dutch people speak English, this is also related to the presence of AMS-IX. This has facilitated a powerful mix between tech and start-ups, including local successes Adyen and Booking.
Why choose an international executive programme to improve one's skills?
Focusing on executive education is very important. The world changes, so you must improve your skills, increase your knowledge, and meet other people of your industry from who you can learn. A lot of the learning in executive educational happens through peers who share their experiences. Through that, you will automatically build a network, which a very important aspect. As regards the international aspect, it is important to cross borders and meet other cultures. Finally, because of the considerable number of big companies moving their regional (EMEA) headquarters to Amsterdam especially after Brexit, attending a programme here, at the Luiss Business School Amsterdam Hub, is an excellent choice which leads to new opportunities.
Discover more about the executive education Luiss Business School at Amsterdam Hub.
Join the Virtual Open Day on April 5th.