LUISS Business School - Sala delle Colonne - Viale Pola, 12 - 00198 Roma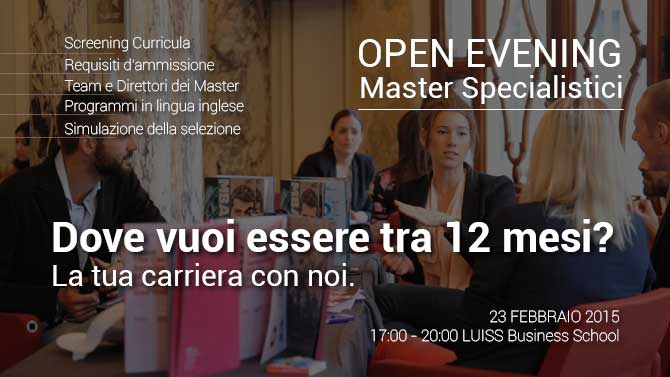 Where would you like to be in 12 months? Boost your career with LUISS BS.

The programme will include orientation interviews with coordinators of the Masters and the testimonials of several former students on their master's experience and the job they are currently doing. We discuss the benefits of partial scholarships of the enrolment fee, of scientific contents and professional opportunities.
This event aims to help and guide all interested in a conscious choice and directed training according to their actual needs and inclinations.
The Specialised Master that willbe presented:
Marketing & Communication
Project Management
Gestione delle Risorse Umane e Organizzazione
Master in Corporate Finance – MaCoFin
Master in Big Data Analytics – MABDA
Master in Real Estate Finance – MaREF
Master in Business Administration – MBA
Master in Business Administration Part-time – MBA
Further Information
Specialised Master Programmes
LUISS Business Schol
viale Pola, 12 – Roma
T 06 85 222 215 / 327 / 391
lbs@luiss.it
Date
February 23 2015 - 17:00
Date
February 23 2015 - 17:00