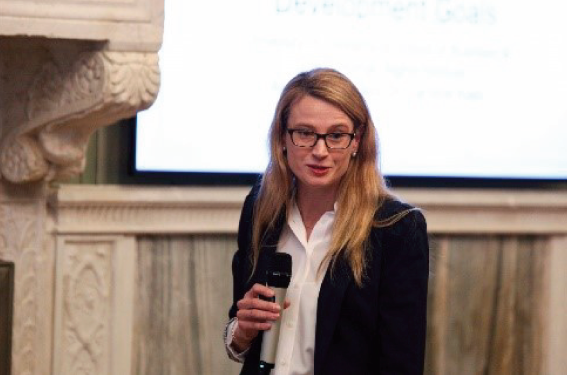 Among the LUISS Business School ERSHub (Ethics, Responsibility and Sustainability Hub) activities, on November 10 MBA students had the chance to delve into sustainability issues with Caroline Kaeb (University of Connecticut, Human Rights Institute) Assistant Professor in Business & Human Rights that held a lecture about the United Nations Sustainable Developments Goals.
The sustainable developments goals (featuring 17 goals and 169 key targets) were adopted in 2015 by 193 states in the UN General Assembly to end poverty, protect the planet and ensure prosperity for all. Dr. Kaeb's presentation discussed the role of business in achieving these goals. Understanding this role better is premised on two important aspects: First, the realization that business is not operating in a vacuum, but rather that it is affected by the environment in which it operates.
Business can only prosper in healthy societies and markets free of corruption, operating under the rule of law, and with functioning infrastructure, healthy workers, and consumers who can afford their products. Second, the understanding of the need for companies to be innovative and strategic in their corporate responsibility efforts, such as to leverage their core business capabilities to innovate around societal problems rather than focusing merely on charitable giving.
The Sustainability Development Goals can provide a framework for business managers to apply their strategic thinking to issues of societal importance, which shape the environment in which business operates.
Watch the video
(Professor Kaeb's reference to the Sustainable Development Goals is a reference to the body of 17 SDGs)
During the day, MBA students participated in a challenge launched by an NGO that operates in Senegalese and Gambian schools. The challenge's goal was focused on education and wanted our students to find a way to help children to understand what Human Rights are about. Human rights are essential to democratic development and to citizenship education. By fostering an understanding of human rights to children, the higher education can strongly support to develop in the learning process attitudes of respect of equality and dignity.
Watch the gallery