The Luiss Business School invites outstanding scholars to express their interest for one full-time Associate professorship of Information Systems & Digital Transformation.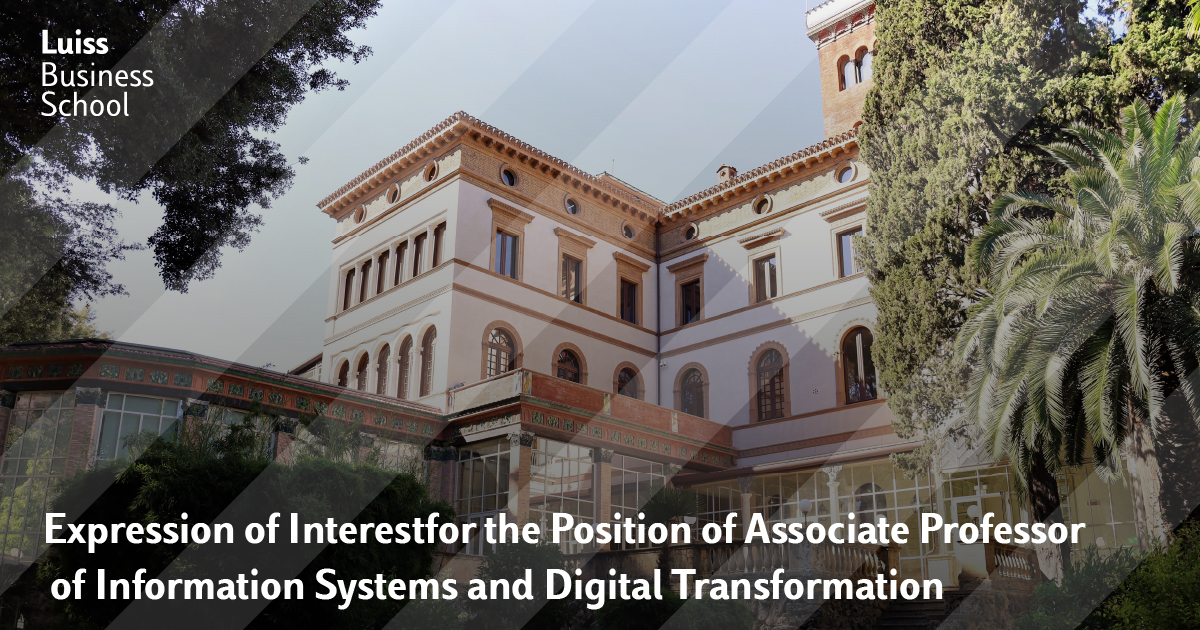 Requirements
We seek candidates with a strong commitment to academic and applied research and teaching and the aspiration to contribute to Luiss Business School's international expansion and visibility.
Candidates must hold a PhD from a leading university, have teaching experience, and a relevant record of publications and/or research projects.
Ideal candidates will show a passionate drive to engage in Luiss University's dynamic and stimulating academic environment and contribute to its further development. They will have research experience in Information Systems & Digital transformation, with a focus on the impact of digital technologies on the firm's organization and strategy. The main topics of interest are:
Digital Transformation
Digital Business Models
Business Model Innovation
Impact of new technologies on strategy
Transformative leadership
Management of Information Systems
Ideal candidates will be able to teach and publish in English.
Role and Responsibilities
The Associate Professor of Information Systems and Digital Transformation is expected to undertake rigorous and innovative research in their field(s) of interest, publish in high quality international journals, and provide academic assistance or leadership in research activities. They are also expected to contribute to the collegial and intellectual life of the University and of the Luiss community at large.
The position of Assistant Professor is for a three-year fixed-term contract, with the possibility of renewal upon positive evaluation from the Department. Teaching load is 120 hours per year, either in undergraduate or graduate programs, but special conditions of engagement may apply. Teaching assistantships are available.
Teaching can be either in English, Italian or both. The position holder will also supervise students' final dissertations. Appointments are full-time and the salary is competitive.
About the Luiss Business School
Located in the heart of Rome, Luiss Business School offers post-graduate programs – including MBA and Executive and Custom Programs.
Its mission is to adapt and reinvent the experience of management education by valuing economic, social and human capital, academic output, fostering critical thinking and incorporating ethics and responsibility in order to support the development of creative, collaborative and resilient leaders.
The School's vision is to contribute to redesign the higher education industry. A future in which knowledge, digital, data, internationalisation, relations with the business community and the creation of research content will give rise to a unique, smart, flexible, and customisable learning platform with an impact.
A data-driven organisation where academic research fuels applied research and programmes that are supported by the business community and students. The School offers educational services providing students with a global mindset but rooted in their local realities by the means of a multi-campus and multisite educational experience. The School also continue to further strengthen its boutique approach through a series of premium services to take on the role of relational hub, enhancing personal and career development activities.
Luiss Business School has been awarded EQUIS and AMBA accreditations and is a member of PRME, GRLI, GBSN and FOME Alliance.
Conditions of Employment
Luiss invests in inclusion and mobility, collective leadership, and responsibility with the aim of overcoming conventions, roles and purposes to transform borders into horizons. Luiss is committed to the promotion of diversity in its academic and student bodies. Our commitment to diversity, inclusion, and excellence are unwavering. These values are central to our Luiss' mission as a leader in research and teaching and societal impact. We know that having varied perspectives helps generate better ideas to solve the complex problems of a changing—and increasingly diverse—world.
Luiss is an equal opportunity and affirmative action employer with a zero-discrimination tolerance policy. To further promote our faculty diversity, women and underrepresented minorities are especially encouraged to apply. All expressions of interest will receive consideration without discrimination on any ground.
Caretaking responsibilities and other significant life events may also be considered in the definition of career advancement conditions. Luiss offers competitive family allowance packages, as well as dedicated assistance for welcoming new international faculty. Additionally, fiscal incentives are offered by the Italian law to individuals relocating from abroad (i.e., a fiscal break is offered upon the transfer of fiscal residence in Italy: up to 90% discount on annual taxation for the first 6 years).
Expression of Interest
To express your interest for this position please upload the following documents:
Cover letter
Curriculum vitae with up to three references that may be contacted. Publications should be listed according to the Academic Journal Guide 2021 (AJG) of the Chartered Association of Business Schools (former ABS list)
Research Statement (please indicate teaching interests and goals)
Statement on diversity, inclusion, and belonging (please include past and current contributions as well as vision and plans in these areas)
Copy of (maximum three) publications or working papers, including the job market paper (please upload all publications/working papers in a single file)
For further information, you can contact info-call@luiss.it
Expressions of interest submitted via email will not be accepted.
Submissions are due by February 15, 2022, at 2:00 p.m. Central European Time (CET), UTC +1.