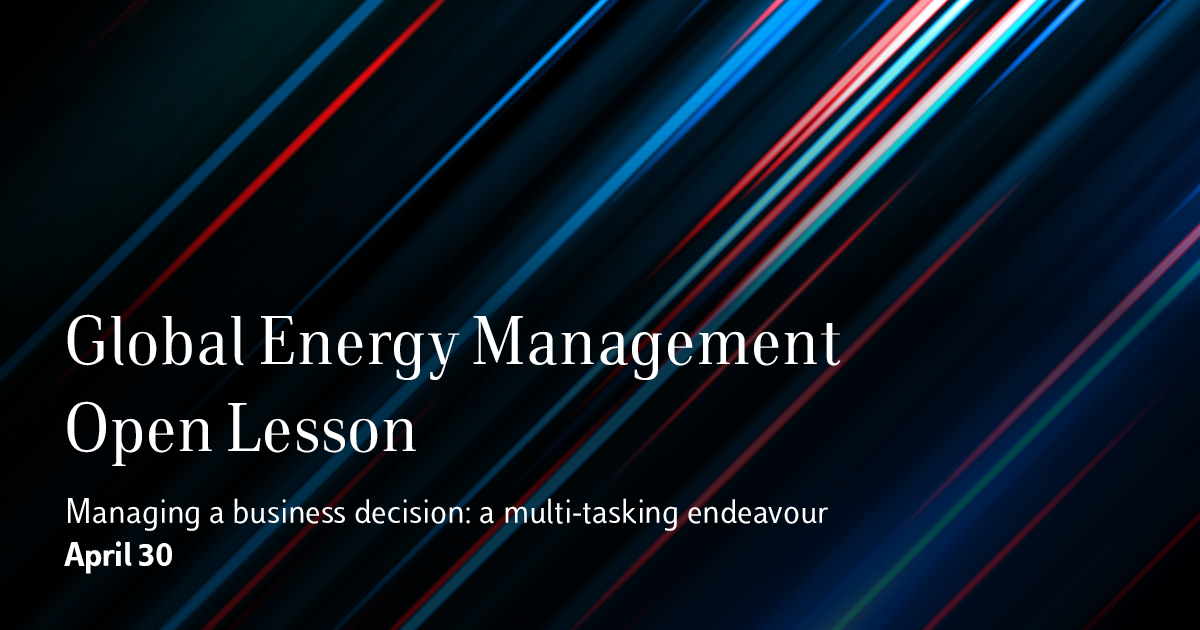 On April 30 at 2.30 pm CEST we invite you to join the Online Open Lesson of Global Energy Management, Major of the Master in International Management, a full-time programme aimed at young students interested in acquiring a solid knowledge of the energy ecosystem in order to face challenges such as the global warming, the exhaustion of fossil fuels, the threats to sustainability.
Together with current students, you will live firsthand an online lesson: from interactive discussions to a practice-based approach. In particular, on April 30 you can join from the comfort of your home a virtual panel with the following managers and experts of the energy sector on the topic "Managing a business decision: a multi-tasking endeavor":
Simone Demarchi, CEO of Axpo Italia S.p.a, international leader in energy trading and in the development of tailor-made energy solutions;
Riccardo Goggi, General Manager of K2 Energy Italia S.r.l, a consultancy made up of a team of professional energy managers working in the power and gas industry;
Lorenzo Parola, partner of Herbert Smith Freehills and a leading energy and energy technology lawyer in Italy having been involved in some of the most complex and "first of a kind" transactions in the sector;
Pietro Bracco, partner of Puri Bracco Lenzi e Associati and Tax Law touchstone for different companies and associations in the energy sector.
At the end of the Panel you can debate with the speakers and then get all your questions about the master answered by the coordinator of the programme.
The master's coordinator is also available after the Open Lesson for one-to-one virtual information sessions for those are eager to learn more about the structure and contents of the master, the application process and the admission criteria.
The event is free upon registration.
30/04/2020