Leader for Talent (#L4T) is a series of meetings with speakers and testimonies from the corporate world. The meetings are strongly oriented to management best practices occurring in the companies in order to offer a very operational methodology. L4T is designed to enhance the meeting with business leaders of the main organizations, offering our students the experience of a debate that can enrich them in terms of professional and soft skills.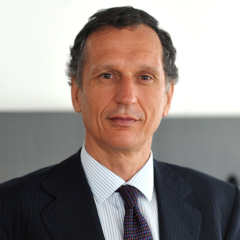 Giuseppe Recchi has been Executive Chairman of Telecom Italia since April 2014. He was Chairman of the Board of Eni SpA from 2011 to May 2014. He is a member of the Board of UnipolSai Assicurazioni SpA and European Institute of Oncology.
He is also a member of the GSMA (Association of mobile operators worldwide), the Advisory Board of Confindustria, member of the Board of the Italian Corporate Governance Committee, the Italian Institute of Technology and Assonime (Italian Joint Stock Companies). In 1989 he started his career as an entrepreneur at Recchi SpA, a general contractor active in 25 Countries in the construction of high‐tech public infrastructure.
In 1999 he joined General  Electric, where he spent 12 years holding several managerial positions both in Europe and in USA, among which Managing Director for Industrial M&A and Business Development of GE EMEA. Until May 2011 he was President & CEO of GE South Europe. He graduated in Engineering at the Polytechnic University of Turin. He has been visiting Professor in Corporate Finance at Turin University.
The event is reserved to Students of LUISS Business School  Masters.
21/11/2016
Publication date
November 24 2016
Publication date
November 24 2016