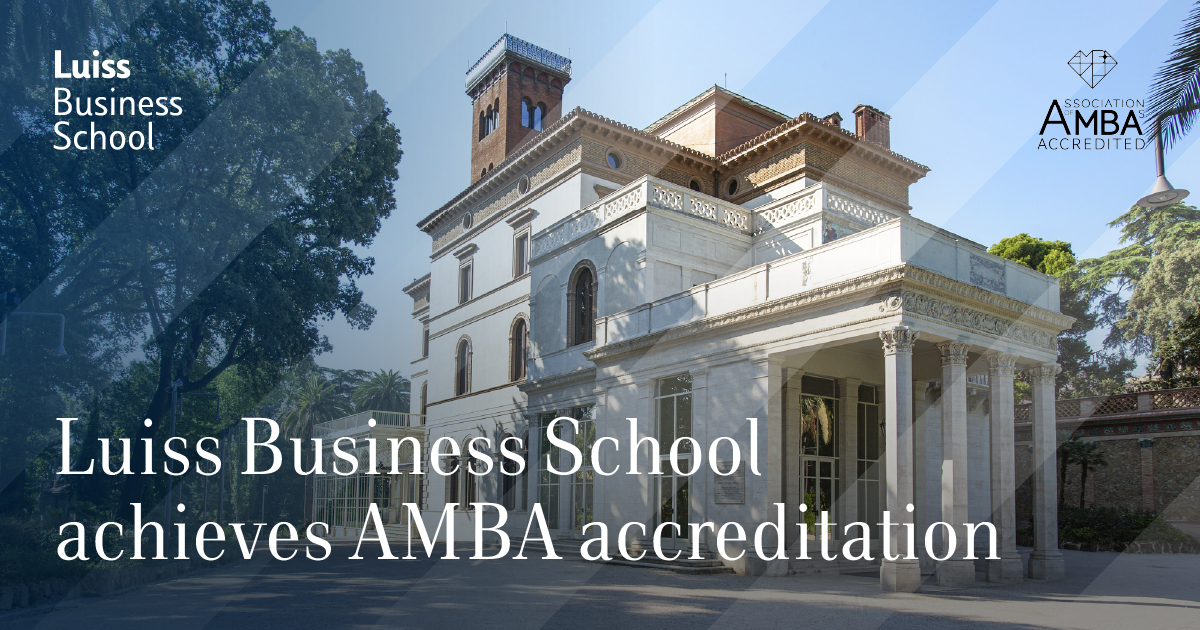 Luiss Business School has officially received accreditation from the Association of MBAs (AMBA), one of the world's leading authorities on post-graduate business education, demonstrating its continuing commitment to excellence in management education.
Upon receiving AMBA accreditation, all current MBA students and MBA alumni of Luiss Business School are invited to join AMBA's global member community of more than 50,000 students and alumni in more than 150 countries on a free basis, for networking, thought leadership, career development, and a variety of benefits.
Luiss Business School is located in Rome, Italy. The School delivers postgraduate and executive education including degree (MBA and one-year specialist Masters), non-degree, open and customised programmes as well as producing academic and applied research.
Accreditation from the Association of MBAs (AMBA) represents the highest standard of achievement in post-graduate business education. Its rigorous assessment criteria ensure that only the highest-calibre programmes which demonstrate the best standards in teaching, curriculum, and student interaction achieve Association of MBAs accreditation.
Members of AMBA's visiting accreditation panel, representing senior management at AMBA-accredited Business Schools globally, commended the senior leadership team, in particular the collegiate atmosphere they created at the School. The panel thought this demonstrated the boutique and human-oriented culture of the School.
The panel also noted the School's rapid response to the Covid-19 pandemic. This included delivering both existing and new programmes online, as well taking other operational activities online swiftly.
The School was also commended for its strong connections with companies operating in Italy and beyond.
Paolo Boccardelli, Dean of Luiss Business School, said: "Joining the 300 Business Schools that have received the AMBA accreditation globally is a source of great satisfaction for us. Our MBA and our School have proved that they can meet the high-quality standards required for this accreditation and it is a confirm of the right direction of the work done in these years. The rapid response to the Covid-19 pandemic was also appreciated, to which we promptly responded with the delivery of new programmes in digital formula and the creation of new training courses".
AMBA accreditation is international in scope and reach, and AMBA works under the belief that accredited programmes should be of the highest standard and reflect changing trends and innovation in post-graduate management education. Its accreditation process reflects this commitment to fostering innovation, and demanding Business Schools to perform at the highest level continually.
Andrew Main Wilson, Chief Executive of the Association of MBAs and Business Graduates Association (BGA), said, "It is a pleasure to welcome Luiss Business School to AMBA's network of world leading Business Schools. This School operates with the highest quality and has continued to do so, despite the Covid-19 pandemic, showing great innovation and adaptability. I look forward to working with Luiss Business School in the future".
Publication date
September 3 2020
Publication date
September 3 2020