Introducing Tourism Management – Major of the Master in International Management. Skills Evolution in the Tourism Industry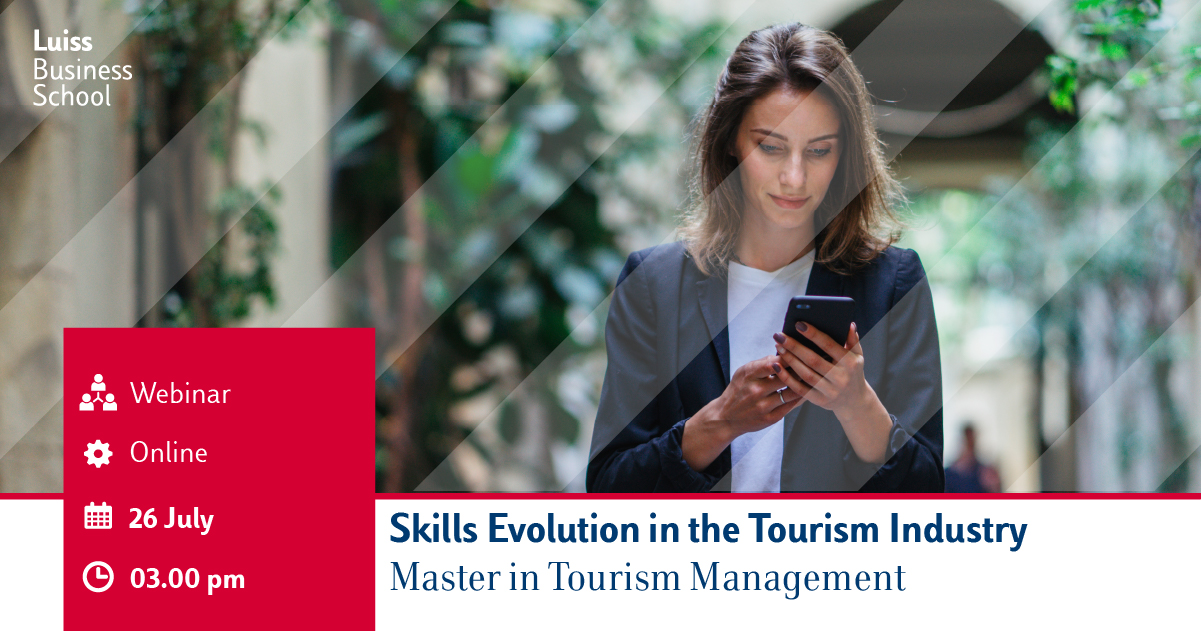 On July 26 at 3 pm CEST attend the live webinar of Luiss Business School and learn more about the next edition of the Master in International Management with Major in Tourism Management, a 12-month full-time programme designed to turn students' passion for the tourism industry into a competitive skill on the job market.
The topic of the Webinar
The webinar allows to go through epochal changes in the tourism industry after Covid and explore which are the most required "new positions" in the market.
All the professional skills, required during the recruiting process, will be examined from a professional of the hospitality sector, as well as some of the most requested skills such as: Emotional Intelligence, Problem Solving, Learning Agility, Cross-Functional Growth, Active-Learning, Digital Awareness, Resilience, Critical Thinking, Body Language and much more.
Also, a relevant part will be dedicated to the digital transformation which is an important component of the new way of doing tourism business; how to approach new market thanks to Social Network and how clients use these different ways of communication.
In conclusion will be introduced the immense job opportunities linked to the new hotel openings in Italy by International Brands and the intrinsic link that exists between the luxury market and the hotel business as an essential competitive advantage
The Speakers and the Master's Coordinator, during a Q&A, will answer all questions and curiosities of participants giving more details, insights and suggestions to participate in the next edition of the Master starting in September 2022 in Rome.
The live webinar is aimed at recent graduates — or those graduating soon— who are interested in developing competencies required in the Tourism sector.
Speakers
Elena Dittadi, Complex Reservation Manager, The St. Regis Rome | The Westin Excelsior Rome
Rachele Zucchetti, Master Full-time Coordinator, Luiss Business School
14/07/2022
Publication date
July 14 2022
Publication date
July 14 2022