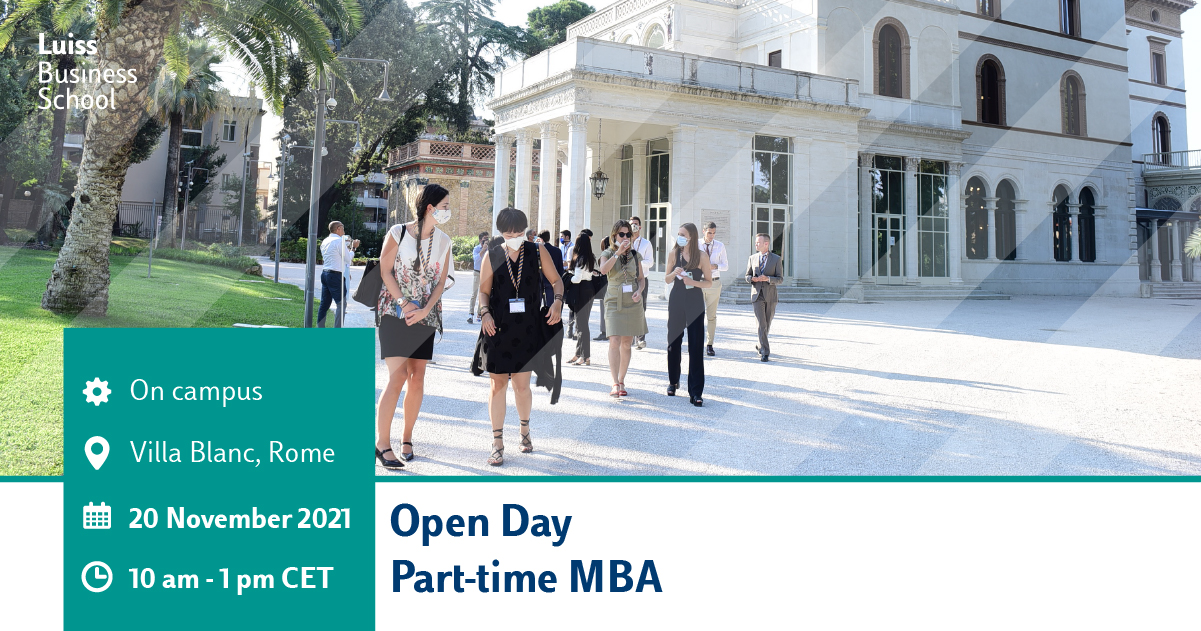 The Open Day is the event dedicated to the Luiss Business School Part-time MBA, a redesigned MBA, built around the concepts of Hyper-Personalisation, Business Impact and Innovation and dedicated to professionals willing to acquire new managerial and leadership skills, without interrupting their professional paths.
The Director, the Academic Coordinator, a Coach, a Career Advisor and Luiss Business School Staff will present alle the news of the next edition of the Part-time MBA starting in Rome on April 7, 2022. Participants have indeed the unique opportunity to interface with them in Q&A sessions and find answers to all their doubts if this programme is the best fit for them.
WHEN: 20 November 2021, starting from 10 a.m.
WHERE: Luiss Business School, Villa Blanc Campus, Via Nomentana 216, 00162 Rome.
AGENDA e SPEAKERS:
10.00 – 10.20 | Programme Presentation: Alessandra Perri, Scientific Director Part Time MBA Rome
10.20 – 10.40 | Activities Presentation: Maria Isabella Leone, MBA Academic Coordinator
11.00 – 11.45 | Masterclass: Edoardo Palmisani, MD & Partner, The Boston Consulting Group
12.00 – 12.30 | Career Advisory Presentation
12.30 – 13.00 | Coaching Presentation
The event is free of charge and will take place from 10 a.m. to 1 p.m. In compliance with Covid safety regulations, the Green Pass Certificate is mandatory to participate. Registration is required.
For the protection of all Open Day participants, please note that masks must be worn throughout the event. At the entrance to the venue, staff will take your temperature and hand sanitisation points will be available.
11/5/2021
Publication date
November 5 2021
Publication date
November 5 2021