The CEO VMware, met Luiss Business School students of the Masters in International Management, Big Data & Management and Business Transformation, during a talk with Paolo Boccardelli, Dean Luiss Business School, and Maximo Ibarra, CEO Engineering.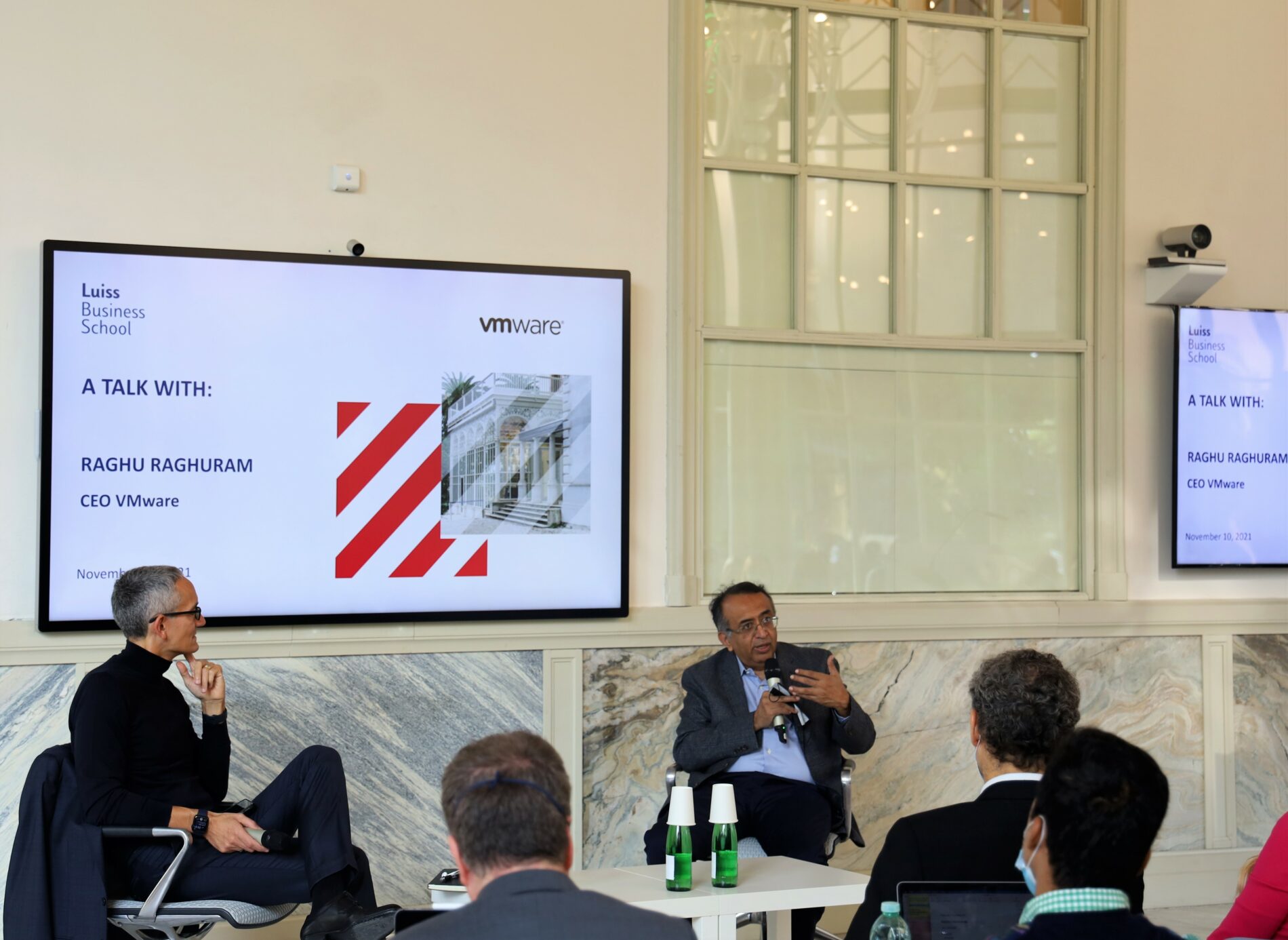 Luiss Business School hosted Raghu Raghuram, CEO Vmware, for a talk about technology and new challenges with the students of the Masters in International Management, Big Data & Management and Business Transformation. «The cloud revolution is real: it's not a technological change, it's a way of changing organizations – says Paolo Boccardelli, Dean Luiss Business School, host of the talk with Maximo Ibarra, CEO Engineering S.p.A. – This new, big impact in organizations may be extremely relevant for all of our experiences and activities here in the Business School».
Successful strategy for tech (and non tech) companies
Exploring all the paths made since the beginning of his career, Raghuram explained that the cloud let all the tech company to innovate themselves «Every technology company that existed over five years has to reinvent itself, and this is true in every kind of business, from iron steel to automotive», CEO VMware explained. Then he underlined the difference between the software business model and the cloud one, that drives to a tech-driven transformation of the business.
«The second most important thing to a tech company is to be really close to small companies and to small businesses in the space you already use – added Raghuram – When companies get big, they worry about bigger competitors. But the challenge is never going to be among bigger competitor: the challenge is always going big among smaller companies».
Thinking about successful companies, most people think that they have some complicated business strategy. «It turns out that doesn't work: the best companies have very simple stories, and it is based on what they are doing».
As regards companies which go big, pay attention to acquisitions. «Every successful company is like a mini marriage or, in same case, a major marriage. It depends on the size of acquisition. In VMware, since we got public in 2007, we have done probably 60 acquisitions. It's all very difficult. The reason why is that you are not getting a technology, but a group of people, who are used to think in a certain way. The second thing to remember is even before you acquired a company, you must understand what your plan for that company is. Sometimes the plan is to integrate all in one single team. Well, is the exact opposite».
Pandemic effects on technological behaviors
Covid Pandemic brought a pocket of positive lessons and experiences, and the idea of digital transformation as well. For example, the idea of telemedicine has been available for decades in the US, but maybe 5-10% of the population, both doctors and patients, used it. During the pandemic that number went up to 80-90%. Now, even though the pandemic is receding, the use of telemedicine still stays at 80-90%. «The state of technology today allows you to be a lot more digital than you think you can be», stated Raghuram.
«The second transformation we see is the blurring of operation between physical and virtual. Because you can't go to the store, you have the store coming to you. All of these are going to be solid, fundamental changes that we're not go back from. And this would be applicable at any level, private and governmental as well. Italy has seen a huge digital transformation. So, there's an enormous opportunity for all of you students to go into the industry. You will be the pioneers of digital transformation in the world».
Pay attention to the organization
«The main reason why people leave is the manager– stated Raghuram – So, there is one thing you could get out of your business school. It is paying attention to organization. Organizational behavior requires communication and leadership. I think those are very suitable skills to have».
Raghu Raghuram joined VMware in 2003. He oriented with success the strategy and the technological evolution of the company. He covered many leadership roles, from Chief Operating Officer to Chief Executive Officer. He also worked for AOL, Bang Networks and Netscape. He holds an MBA from Wharton School of Business and a Master in Electric Engineering from Indian Institute of Technology in Mumbai.
17/11/2021