If you are looking for a significant change in your career path, it's likely that you are considering investing in yourself and in your ability to compete successfully in today's dynamic environments. The post-graduate education can be considered, in this context, as a turning point for both personal and professional life. Nowadays, there are many degree opportunities and choices, and maybe you are asking yourself how to choose the program that fit your career goals and expectations. When you participate in a post-graduate program, however, you are not just attending classes, you are embracing the School's values, teaching methods, environment and opportunities. In a post-graduate program you live an intensive learning experience that probably you will remember for the rest of your life.
A post-graduate program, hence, should be so much more than just academic content. It must provide a comprehensive set of soft as well as hard skills, network connections and a stimulating learning environment. Your post-graduate experience should open your mind to new business and social aspects, creative approaches, stimulate your entrepreneurial spirit and instil the ability to innovate. In short, it should prepare you for change. 
LUISS Business School is fuelled and surrounded by innovation, creativity and opportunities. Here you will learn from and have access to world-class faculty, guest speakers and industry leaders. We train talents that will be able to promote social and business growth within small and large institutions, combining entrepreneurial spirit with unconventional qualities: creativity-fuelled problem-solving will give you the ability to challenge any difficulty you will face. 
Visit the website: https://businessschool.luiss.it/internationalprograms/  
Here are 10 key facts to choose LUISS Business School as your learning experience.
1. GUIDANCE AND ORIENTATION FOR YOUR FUTURE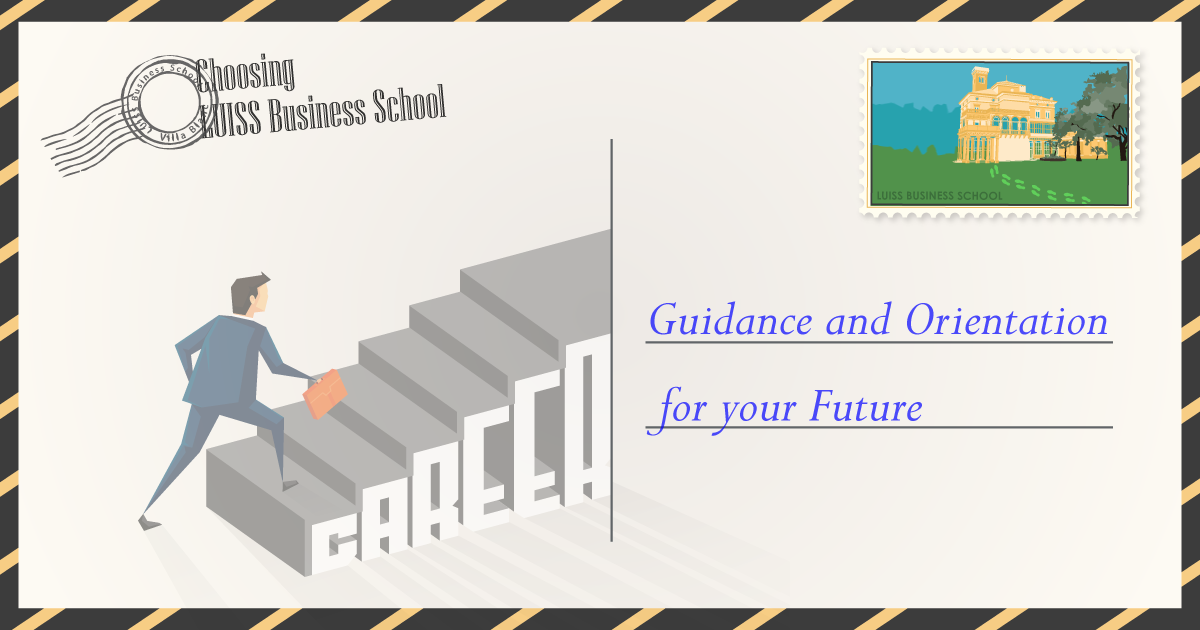 At LUISS Business School you are not just a number. We take care of the person behind the CV and we do our best to understand and fulfil candidates' needs. That's why the LUISS Business School Recruitment Staff provides consultations during your programs' scouting in order to help you to evaluate the program that best fits your career goals and learning expectations. If you would like to receive a profile evaluation, we offer the possibility to speak with recruitment representatives for support and guidance in your Master's choice.
2. THE EDUCATIONAL MODEL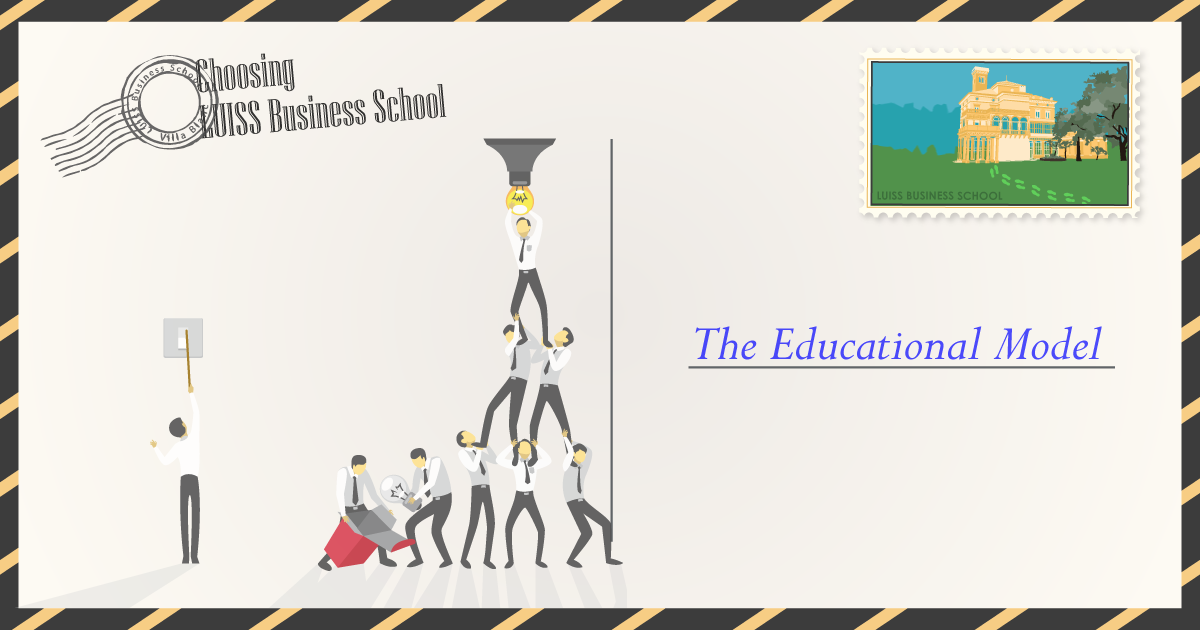 LUISS Business School Learning-centric methodology is tailored to improve students' mindset. The approach raises profound awareness, greater conceptual understanding, and the development of critical skills. All programs curricula offer laboratories, workshops and cross-activities to challenge students to explore broadly, whilst gaining deep knowledge in a chosen field, the development of practical skills is promoted to enhance students' ability to adapt to a fast-moving world.
3. BUSINESS AND INNOVATION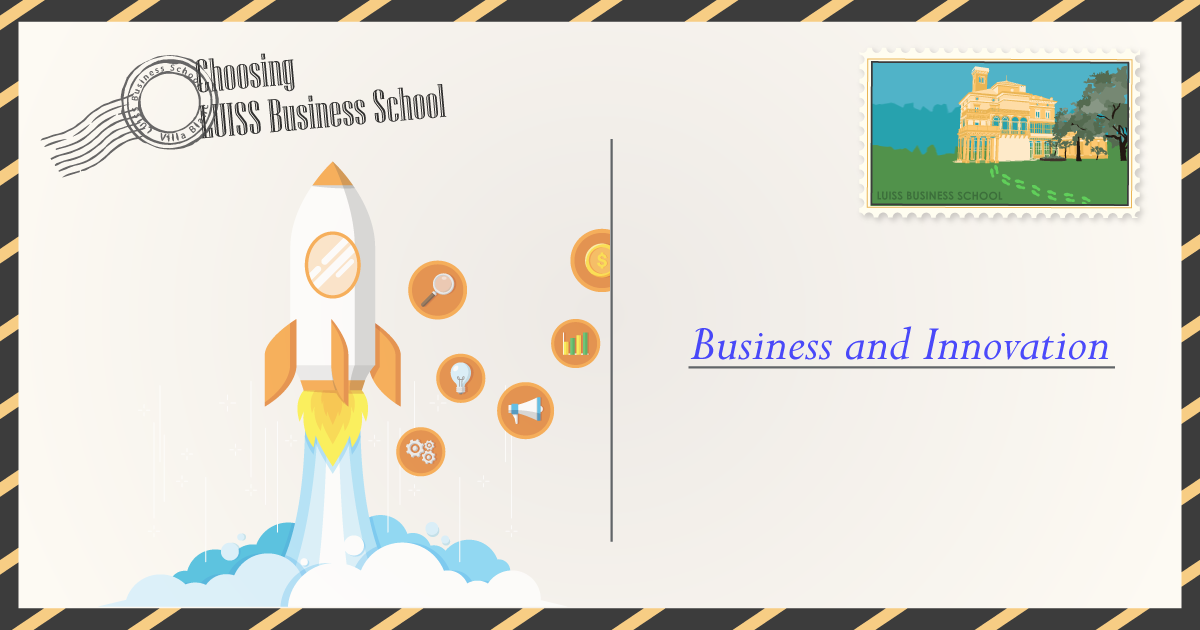 LUISS Business School aims to develop students' cognitive and soft skills, their capacity to relate in an international and multiethnic environment, to learn from experience, and to know their-own mission and vision for the future. This is mainly achieved through the promotion of an entrepreneurial spirit introducing innovative programs where analytical thinking combined with a "can do" attitude will lead to growth.
4. BUSINESS NETWORK AND INTERNATIONAL FOCUS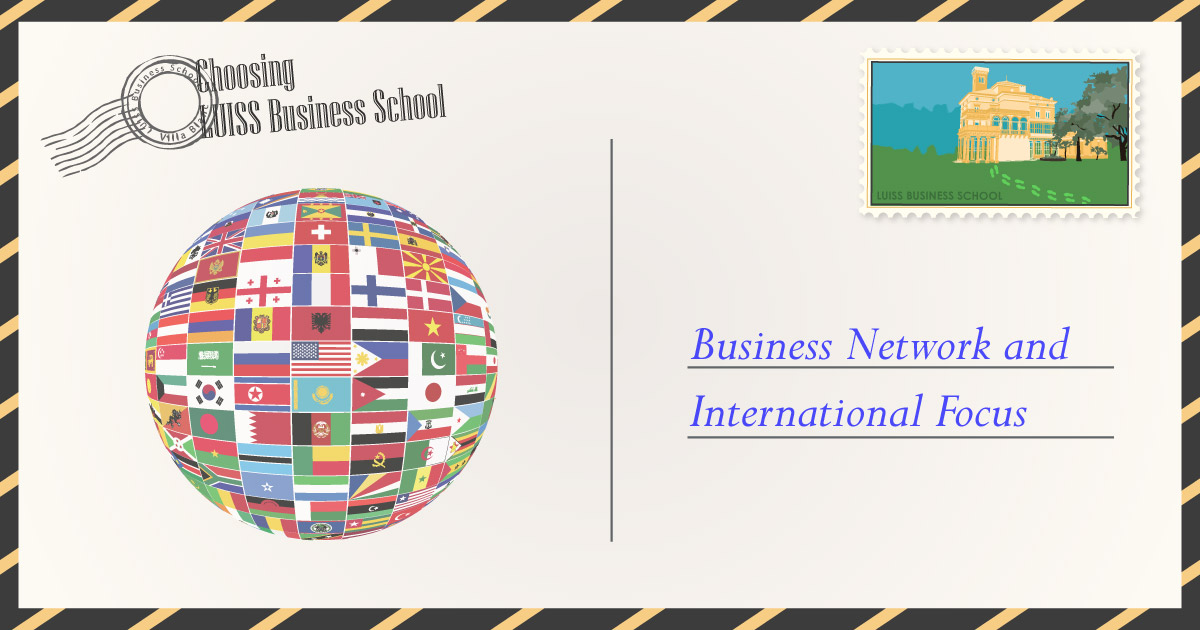 LUISS Business School is a bridge between the academic and business worlds through its long-term partnership with Confindustria, where key partners from the corporate, no profit and public sectors are directly engaged in the co-creation of specific programs that aim to advance knowledge on management practices. LUISS Business School experience is strongly international to guarantee a global approach and the possibility of creating a network with no boundaries.
5. A STRONG COMMITMENT TO SOCIAL IMPACT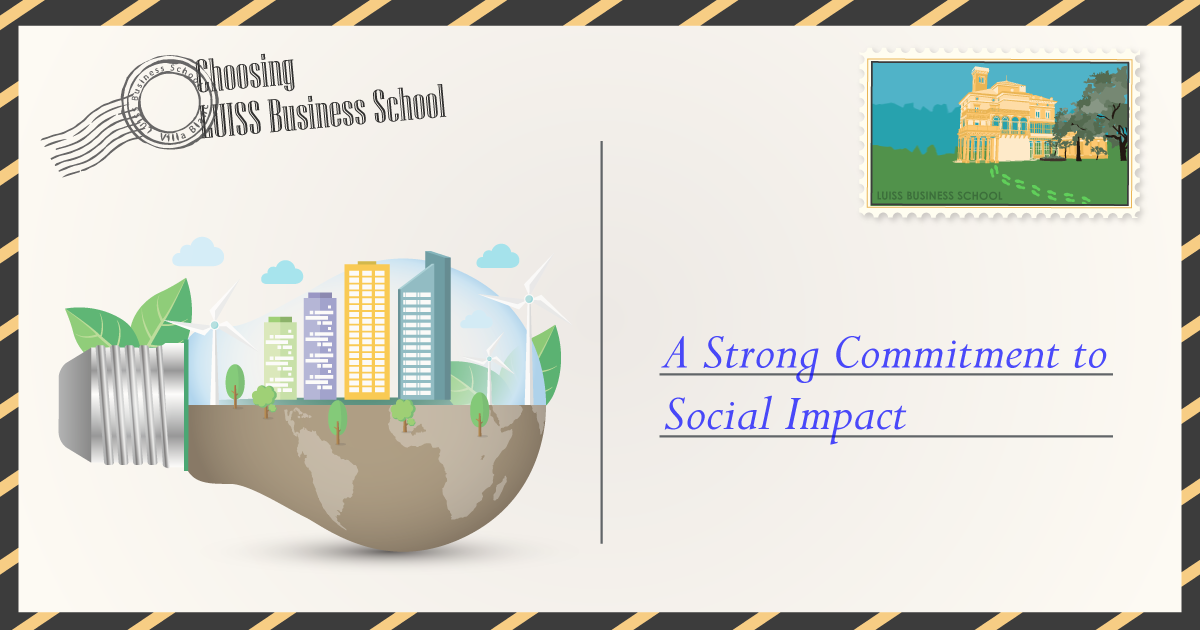 The multifaceted education provided by the LUISS Business School prepares our students to step into the business world as professionals able to propel social growth. The Ethics, Responsibility and Sustainability Hub (ERShub) has been created to give value to ethics, responsibility and sustainability in management education and in economic action in general. ERShub promotes the idea that an ethical, responsible, and sustainable approach in doing business is instrumental to achieving significant and long lasting economic results while allowing to properly interpret the today's world dynamics and the global challenges characterizing it.
6. AN INTERNATIONAL CAMPUS IN THE HEART OF ROME (ITALY) 

There's no Place like Rome! Located in the prestigious Villa Blanc campus, LUISS Business School is a top-level Business school in the world's heritage city of Rome (Italy), where beauty, history and culture provide an amazing environment. There is a reason why Rome is called "The Eternal City". In almost 3,000 years of history, Rome has influenced the western world maybe like no other city. Whatever you'll do in Rome, you'll be sure to leave with a life-changing experience, a lifelong international network and the ability to respond to any challenge you'll be faced with. The memories you'll make here may not last 3,000 years, but they sure will last a lifetime.
7. PLANNING TO START A BUSINESS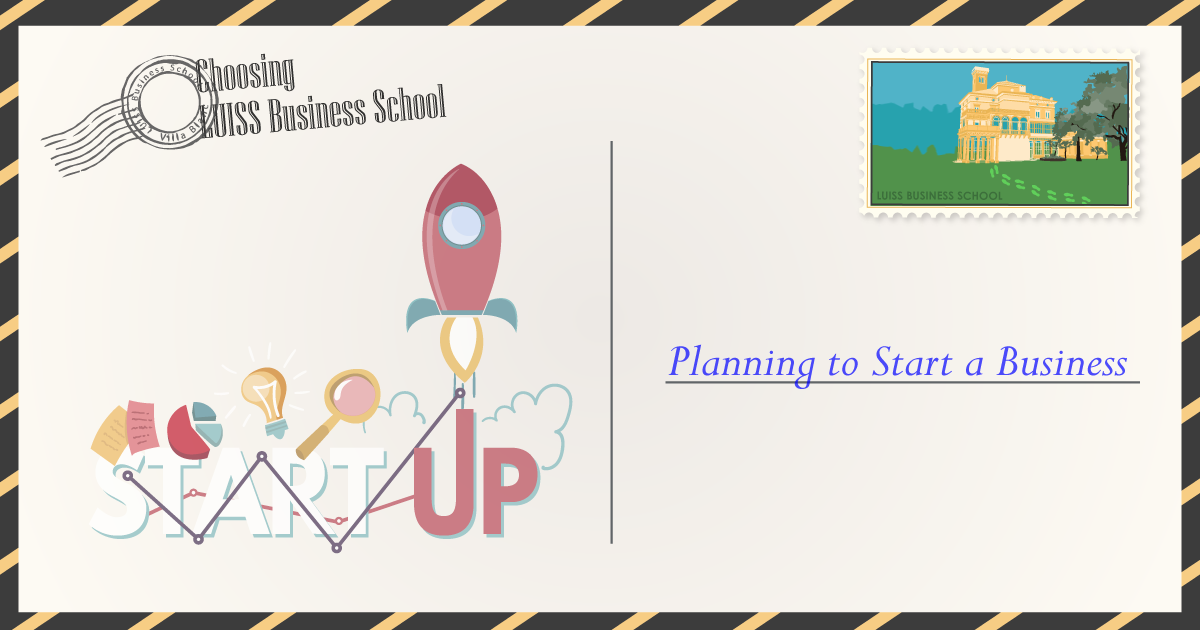 If it's business start-up that's the focus of your next career step, the School provides access to modelling, planning and funding opportunities for students that what to become entrepreneurs thorough a dedicated entrepreneurial path as well as LUISS own startup incubator EnLABs.
8. EXPERIENCE A BUSINESS SCHOOL IN THE TOP 1% WORLDWIDE 

LUISS Business School gained the gold standard EQUIS-accreditation, ensuring you have a learning experience of the highest quality. With a fully dedicated staff and career service, you'll know why we offer a unique "Boutique feel" to our students.
9. ACADEMIC AND APPLIED RESEARCH, AND MANAGEMENT EDUCATION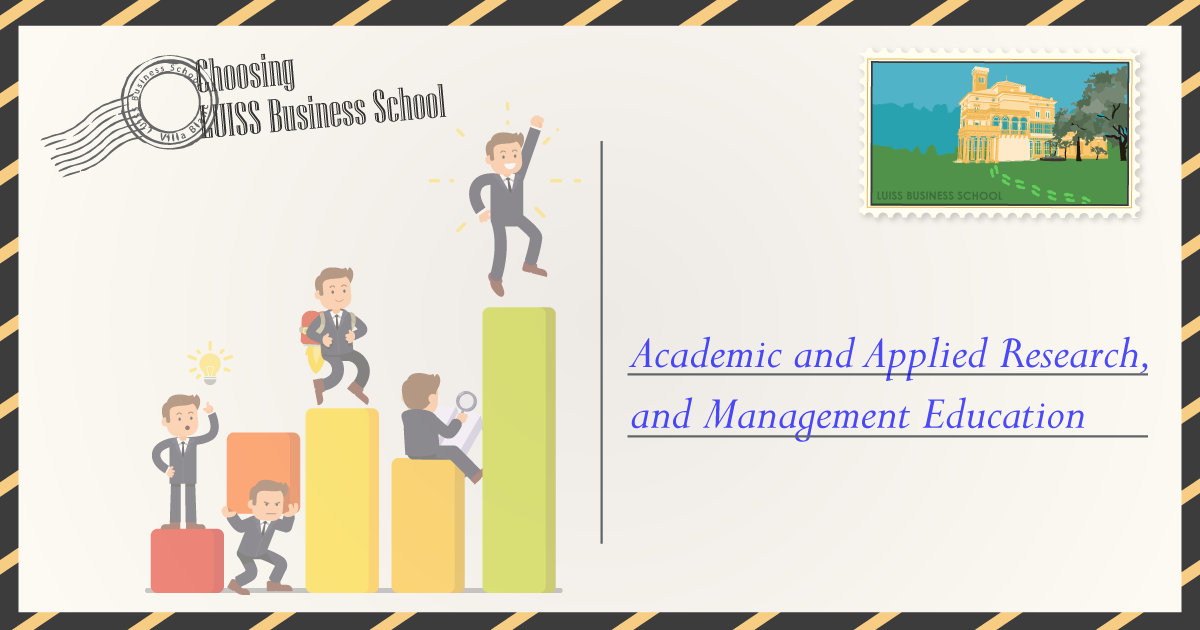 LUISS Business School develops and promotes research in different academic fields with a focus on Strategy and Corporate Renewal, Corporate Governance and Performance Measurement, as well as Innovation and Organization Design. The research is grounded in knowledge of business processes and corporate environments and covers emergent key areas, such as Ethics, Responsibility and Sustainability. The experiential activities and the personal leadership are a bridge between the needs of the corporate and public organizations, and academic world.
10. CONNECTIONS WITH THE WORLD'S LEADING COMPANIES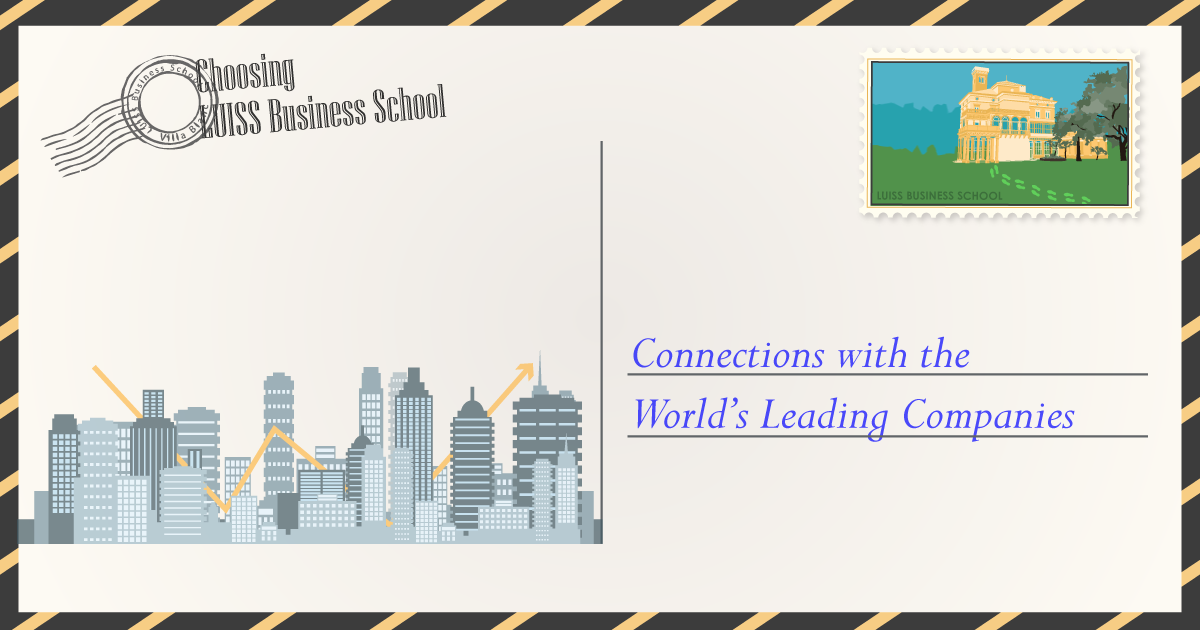 If it's driving a renaissance in business thinking you're after, you'll find our connections with some of the world's leading businesses invaluable: Bain & Co, Carrefour, Eli Lilly, Ferrari, IBM, LVMH, Procter & Gamble, Salvatore Ferragamo and more.
Visit the website: https://businessschool.luiss.it/internationalprograms/ 
Interested in joining LUISS Business School? Write to recruitmentluissbs@luiss.it for any information or support.
30/05/2018