The Specialized Course in IP Management and Valuation Graduation Day was held on July 19th. The ten-week specialized program – jointly promoted by LUISS Business School with the Italian Patent and Trademark Office and the World Intellectual Property Organization (WIPO, through the WIPO Academy) – offered courses on Industrial and IP Law, International IP Granting Procedure, Innovation Management, IP at University, IP-enabled Business Models, IP Data Analysis, Emergent Issues in IP and Business and IP Valuation to a class of 17 people from 7 countries (India, China, Iran, South Africa, Brazil, Egypt, Algeria and Indonesia).

In their opening speeches, the Dean of LUISS Business School, Prof. Paolo Boccardelli and MISE-UIBM General Director, Dr Loredana Gulino congratulated all the international students for the amazing achievements reached in this course. Prof. Maria Isabella Leone, Course Scientific Director, inaugurated the ceremony, highlighting the various projects that will be carried on by the new established LUISS Business School International Network of IP Specialists.
"This course taught us IP related issues from the perspective of law, economy, business management and social needs. It also provided practical cases and experiences on how to generate and use IP in a more competitive way so as to foster innovation, IP enabled business model and protect the legitimate right of IP holders." says Chi Xinxin, student coming from China, trademark examiner in China Trademark Office (CTMO) for over five years. "From the knowledge and methodology I learnt here, I know how I can better adopt further research when I meet difficulties in future. As one professor said, knowledge is infinite, but we can master the right way to explore and learn by ourselves. I am sure the experience here will be of great help to me after I go back to China".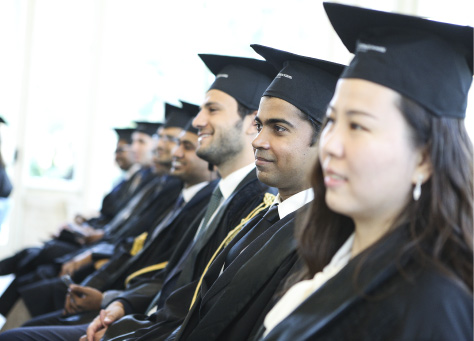 "I wanted to understand IP beyond the legal perspective: I wanted to learn how to apply IP on a managerial and strategic level. I have learnt that IP is more than a defensive tool but a strategic and managerial tool. I have experienced IP in legal realm and on a managerial level as well. The course was an invaluable asset for anyone wishing to specialize in IP management. In the short term, I hope to capitalize on my currently acquired knowledge by analyzing IP law from more than a legal viewpoint, but rather by utilizing a more holistic style (applying in practice everything I have learned). The aim will be to look beyond what is deemed to be the tradition function of IP, by advising and offering IP services as a package that includes a strategic and managerial suggestions / advice and / or at minimum awareness" comments Thembani Melusi Nkabinde, Candidate Attorney from South Africa.
A great experience for both professional and personal life according to Julia Couto, Business Analyst at Pris Propriedade Intelectual from Brazil, with 3 years of experience in IP Management, Valuation and Evaluation. "Having the opportunity to discuss relevant subjects related to all IP perspectives, as law, economics, academic research, public policies, and so on, with professors and colleagues with a lot of experience in the area gave me the opportunity to go far beyond my previous experience. I plan to apply the acquired knowledge to help my company to improve its services and create new ones, creating value to the clients. Besides that, I want to use this knowledge for further academic research".
Daryoush Gorji, Lawyer practicing in the field of International Trade and Business Law from Iran found that the possibility to get in touch with a group of international classmates – all of them with a high cultural background – and to share with them experiences, represented one of the most relevant aspect of the course. "I would like to provide to my clients a complete range of legal services related to IP protection. In the past I did it but just in relation to the protection of trademarks. As soon as possible I would like to organize a seminar referring to the protection of trademarks in the Middle East countries".
"I think India is emerging with respect to Intellectual Property Rights" observes Apoorva Anand Conjeevaram from India, Partner at the technology business incubator of NAARM (Academy for 101 Agricultural institutions in India). "It will still be a long way for the niche market of Intellectual Property Valuation (litigation) to grow. However, this course has shed light on addressing issues and gaps in the field of technology transfer at Universities. I plan to go back to India and see if I can implement some of the learnings to the technology transfer offices in India. I would also like to utilize the contacts I made during the course (both professors and students) and see if we could help each other address global challenges in IP".
Gallery
26/07/2016