The Luiss Business School values cannot be counted only thanks to its educational offer, but mainly through the people who passed through our classrooms, collecting excellency in their professional path. This is the story of Dalia Caterino, Creative Office Library & Vintage at Gucci, for #MyLuissBusiness series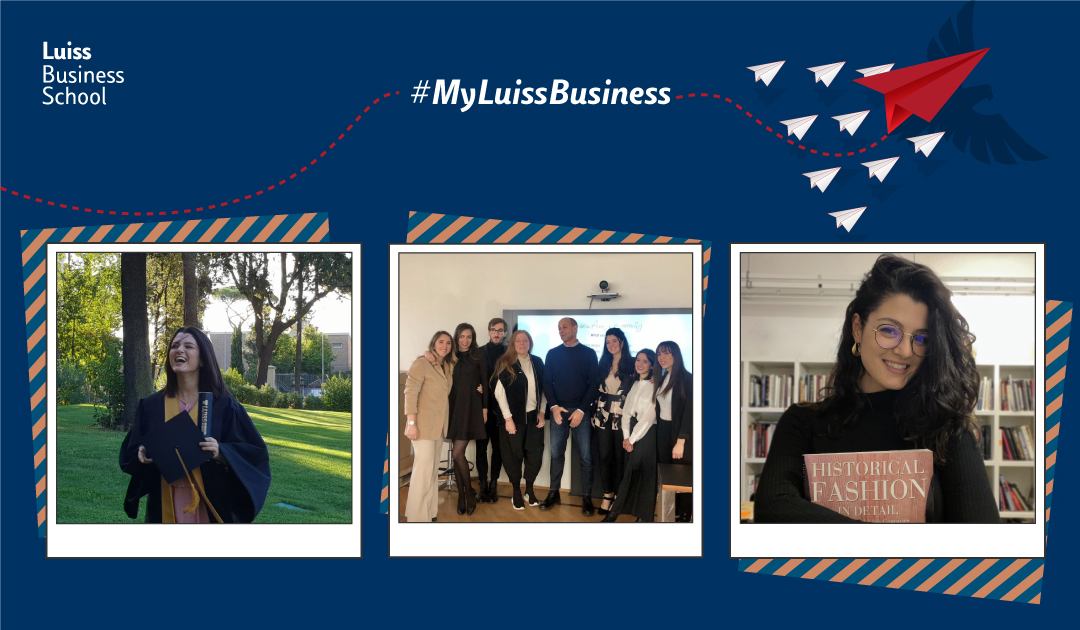 A study of the World Economic Forum reveals that 65 per cent of children attending primary school, in future will hold job roles not existing yet. Dalia Caterino, alumna of Fashion and Luxury Business – Major of the Master in Fashion, Luxury and Tourism Management at Luiss Business School – proves it: nowadays she works in the Design Department Team at Gucci, in Rome offices, especially dedicated to the Creative Office Library & Vintage.
During an interview for a vacancy in the Communication Department, Dalia told her experience carried out in the Design Department at Valentino, an opportunity achieved through the Master, and she caught the eye of her Recruiters: they allowed her to adapt her skills to a professional role supporting designers in the creative process. After a Laurea Triennale in Moda e Costume (comparable to a Bachelor of Art in Fashion, *not) at La Sapienza University in Rome, Dalia has chosen our School's Master in Fashion & Luxury to enhance her education. Nowadays, she is 28, an alumna in the true sense of the term: «Every time I am telling about my path in Luiss, I always keep a light in my eyes». Educational offer, focus on language competencies, and soft skills developed during courses: these are Dalia's acceleration factors in the fashion world.
Dalia Caterino, why did you chose Luiss Business School?
I had already got positive feedbacks by other people, who had chosen it for their education. Actually, I had compared Luiss' program with similar proposals from other universities, but ever since I participated to the Open Day, I have been charmed by meeting the Professors.
Which do you think to be the strengths of the master in Fashion & Luxury?
The focus on English language: I think it is fundamental for fashion industry. When started, despite my English level was high, I was a little bit awed: anyway, the master allowed me to boost my English. The comparison with people belonging to different cultures has been really valuable: in my class, we were 17. Moreover, the educational curriculum – wide, but not generalized – convinced me: every aspect would have been examined in detail and not generally treated. Along the path, this helped me to understand what I really wanted to do in my life.
How?
When attending a master for the fashion industry, where roles are many and various, it is difficult to pinpoint the most specific ones. Thanks to this master I have been driven towards the understanding on where-to-be in the next future.
How much important has it been the development of soft skills declared in the curriculum?
I used to be an introverted person: thanks to the master, I have been able to step forward. Comparing oneself, not only with the Professors, but also with Professionals, it represents a bit of what is going to happen outside the comfort zone. Too often, the main scare of young people is not being able to measure up: we are often said not to have studied enough, or not to be adequate experts about a certain topic. I believe that with Luiss Business School masters instead, thanks to its wide but curated educational offer, it is possible to seize the necessary. There is no redundancy.
The most significant moments of your path in Luiss Business School: what have they been?
The final exam, where we managed to put in practice what we have been learning. It is about teamworking: you must match your ideas with those of other team members, but you must also compete. This last point is very important: without it, you cannot grow. It allows to overcome one's own limits: otherwise, you do not get out of the comfort zone. Another important activity is the on-site visits to corporates' headquarters.
What do you remember about such experience?
Above all the visit at the Design Department at Valentino's headquarters in Rome marked my path. Over there, we have visited their historical archive. Along the interview aimed at the internship within Gucci, I told the recruiters about such experience. This pushed them to offer me the position I currently hold, even though I had applied for another role within the company.
What position have you applied for?
I wanted to work in the Communication and Public Relations Department. By the way, through soft skills labs, and courses aimed at analyzing them, I realized that what is generally told about the world of fashion is a bit misleading: nobody tells you what you're really going to do, what the real job is. It is possible to dream about a non-existent role.  Hearing from the Communication Director of Alexander McQueen has been very useful: he helped us to understand what are the underlaying mechanisms of this role. I have always tried to observe and learn from professors, from professionals, but also from colleagues. Till today, I have never stopped myself thinking about where I am. I have been dreaming to join Gucci since I was younger, and I have got it, but in a job role I didn't know existed.
What did bring you to such awareness?
We must have a goal in our lives, to be reached with little steps, concentrating on what we are doing into the here and now; on what we can bring with us in the future.
You work in the Style Library & Vintage Office at Gucci: what do you do, in detail?
My Team works on library management, supporting the designers in the initial development of the collection, and to the Vintage management, which is part of the company's property. It is a cross-sectional position to the whole Design Department. In two years and a half the position has been growing a lot: in other companies, it does not exist. My and my boss are shaping it on our desires, on the company's exigencies too, and I feel to be growing a lot. I firmly believe that part of this merit is due to the trail I have walked within Luiss' walls.
Coming from Luiss world, has it represented a plus in entering the professional world? Have you noticed any difference?
Absolutely yes. Luiss Business School is a nationally and internationally recognized institution. You are constantly in touch with the world of practice, and this makes the difference. Without a specialization I wouldn't have been able to deal with it, even if I had been the most prepared person in the world.
Apparently, the world of luxury and fashion seems to be less masculine than other ones, but in holding certain job roles, difficulties persist.  Being a woman, and the educational path carried out in Luiss, have they helped you to build up an armor?
Yes, they have: in comparing each other in the classroom, but also soft skills labs have been very helpful. The Design Department represents a challenging reality: it constitutes the fashion world at its utmost. The master helped me to get stronger. Playing the game and competing with others: they give a higher self-confidence and help to overcome some barriers, demonstrating the real oneself, without feeling disadvantaged just because women.
In the future, do you ever think to carry on building up yourself in the field, or would you rather "go back to school" to acquire new skills?
I would rather do it right now! I graduated at the master two-and-a-half years ago, and I soon started working at Gucci. But I am very curious, I love learning and I would appreciate diving back to coursework.
Fashion is not the same as 20 years ago. There are many topics – sustainability and innovation, among others – which are changing the governance of many corporates. How is Gucci juggling this?
When it comes to environment and sustainability, Gucci is the first one to expose itself. Within the Design Department, we keep ourselves updated about such topics. When working in fast-paced environments, you do not have much time to keep up-to-date, and it is very positive when your workplace pushes you to get informed and educated.
You have also been a mentor for Coursera: have you put something borrowed from Luiss, within this experience?
Every single piece of what I learnt! Despite I was just out of the university, it has been very interesting being a mentor for people like me.
Providing ideas about how to get informed, which is something we have always been doing at Luiss, is fundamental: staying curious and updated should not be undervalued.
Your tips to those approaching.
Observe and learn; ask professionals as much as you can. Look for internships since the beginning. Before the end of master, we felt very anxious about the search of the internship experience. It takes not to fall by the wayside when looking for the internship. Do not give up, believe that something is ready to welcome you. By the way, Luiss Team is constantly by your side when preparing the interview: along the whole path, full sustain is ensured.
8/4/2021
Publication date
August 4 2021
Publication date
August 4 2021