Born in Canada to Italian parents, he attended the MBA to become a well-rounded professional, exploring  the finance world and taking on challenges such as his new job in Vodafone.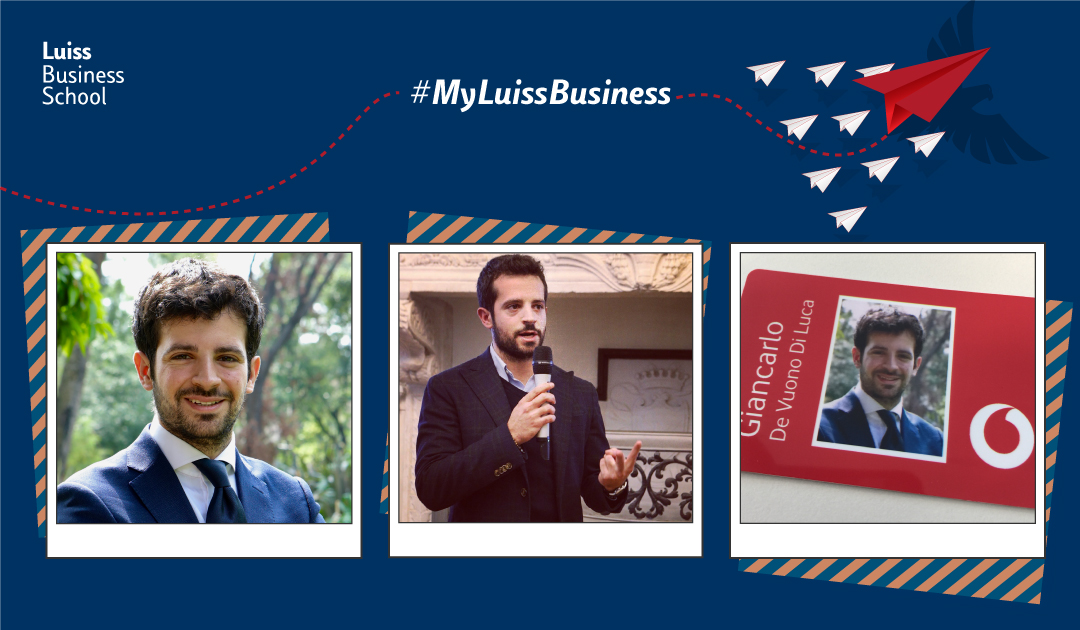 There comes a point in life where you feel you have to make a big change. Giancarlo De Vuono Di Luca felt the same. At 26, he decided to leave Canada, where he lived with his family, and flew to Italy, his parents' homeland. With a scientific and financial background, Giancarlo chose Luiss Business School's Master in Business and Administration.
«I wanted to pursue a career in finance and Luiss Business School definitely offered me the opportunity to explore that field in depth». Now, at 29, he's ready to switch from a job position of Financial Controller at Majorel, in Milan, to Vodafone Italy. «My approach to MBA was: going out of my comfort zone, taking risks, but calculated. That is also my approach to work».
Giancarlo De Vuono Di Luca, why did you choose an MBA from Luiss Business School?
The Master in Business and Administration of Luiss Business School gave me the chance to focus on finance, but also to look at aspects of a company at 360 degrees. We took courses like marketing, corporate strategy, business strategy, even topics that were outside the normal business practice like international taxation. These courses added value to my portfolio of competences and gave me joy in learning new things overall. I've always been a curious person and I've always wanted to take on new challenges. What really pushed me outside of my comfort zone was the feeling of been not fully prepared. The MBA ultimately was a very rewarding experience because it gave me the tools to do exactly the work that I do now.
Which are the benefits of the program offered by Luiss Business School you experienced?
I was looking for an opportunity in the finance field, but also an exposure to other aspects of a company, whether marketing or commercially related. All of these aspects add value to the company. So, for me the exposure to that made me feel a more well-rounded student and professional. One of the biggest impacts that MBA had on me is related to the importance of maximizing stakeholder value as opposed to shareholder value: it's an issue a lot of companies can face at times through governance structure and the implementation of investments plans. Companies can get carried away with maximizing short-term value, that is usually aligned with shareholder interests but ultimately losing focus on longer-term and more impactful value creation that can benefit other parties or stakeholders as well. This is my business approach and the one that also future managers and professionals alike must keep in mind. Another real great benefit was that MBA gives you exactly the tools you need, both on a personal and professional level.
Which have been the best moments of your MBA in Luiss Business School?
Luiss is situated in Rome, in my opinion the most beautiful city in the world, the experience as a student of Luiss Business School was fantastic, unique, and one that I will cherish for the rest of my life. The people I met along the way, fellow students, collaborators, we were all enthusiastic and coming from all over the world. This international context was something special and generated great value. I still keep in contact with some of them.
What about the courses you attended: which one was important to you?
In terms of courses, I was able to take financial planning and analysis, financial statement analysis, Accounting 101, which brought me back to some things I had already learned but also gave me new perspective and competences still. Corporate finance was fantastic because it's essentially what I will use in my time at Vodafone Italy, in terms of evaluation of projects and investment opportunities. There's a general misconception that finance is simply about numbers. It's not: it's much more than that. It's about telling a story and I get some sense of pride in being able to tell a story with numbers. That's why I love what I do and why I loved Luiss Business School's MBA.
How did you work on soft skill during your MBA?
Another great thing of MBA is that it's just not focused only on technical skills, but also on soft skills, one of the most important things to create a well-rounded professional and person. The technical skills can always be learned, but the soft skills are really important. People management, negotiation, communicating with people: all of these are important because people are what make up companies. Most importantly, the ability to communicate ideas, intentions, tasks are the hallmark of a great manager. It creates efficiency and adds priceless value to the company context. The MBA offers courses such us public speaking, people management, negotiation. If these are not your strong points, the best approach to these courses is to just close your eyes and go for it: these are prime examples of courses the MBA offers that really push you out of your comfort zone.
Have you worked on an entrepreneurial project during your MBA? Could you please tell us about this experience? How did it change or influence your career?
I didn't personally take part in the Adventure Lab, experimentation an entrepreneurial experience starting from scratch, creating financial models and business plans. But I had great admiration for those who improve themselves in these start-up projects. I was more focused on the courses.
You recently enter a new job position in Vodafone: how will you use your MBA experience, hard and soft skills, in your job?
I had several opportunities here in Italy already, also thanks to the MBA which is great in term of business networking. Vodafone has a well-structured and international context. They have many opportunities in terms of extension of their existing business segments and exploring new potential business segments. What I will going to do won't be the normal activities related to financial analysis or forecasting or budgeting, but I will focus on evaluation of projects and potential investments opportunities. The position seems more like a business partner between the rest of the departments of the company.
Did Telco sector give you the opportunity of developing your professional?
For me telecommunication is something different: working for a company that has the 30% of the market will be a great opportunity for me to get exposure to this industry and learn more. It's good to find the sector you're really interested in but, as a young professional, it's also important to get as much exposure as you can to different industries and learn as much as you can to develop a basket of competences that makes you a well-rounded professional. It's a blank paper, a great challenge and I love challenges.
What are your goals for the future?
I'd like to become a CFO in a multinational context, here in Italy or in Europe. I love the European lifestyle so for me would be great to stay here in the long term. Canada is a great country, but it's a little cold in the winter! So, I'd love to be in a place where I could live well, eat well and where I could have great relationship with people, and in Canada it's a little bit difficult to do that. Being in Italy is for me now the perfect combination, knowing the language, understanding the culture and coming from an Italian background.
Let's give some advice to future students and those who are evaluating the decision of get into MBA world in Luiss Business School.
In my opinion and in my experience, the best approach in my opinion is to be curious, to want to learn and be humble about that. In most case I've seen that the less you know, the better. MBA gives you the blank sheet to start with and that stimulates curiosity. When I started the courses, I was wowed. I knew there was so much to be learned, but at the same time I was very curious. I think that this approach creates a lot of value for yourself and eventually you will take all of this and use it to apply them to the working world and real world as well.
2/8/2022
Publication date
February 8 2022
Publication date
February 8 2022