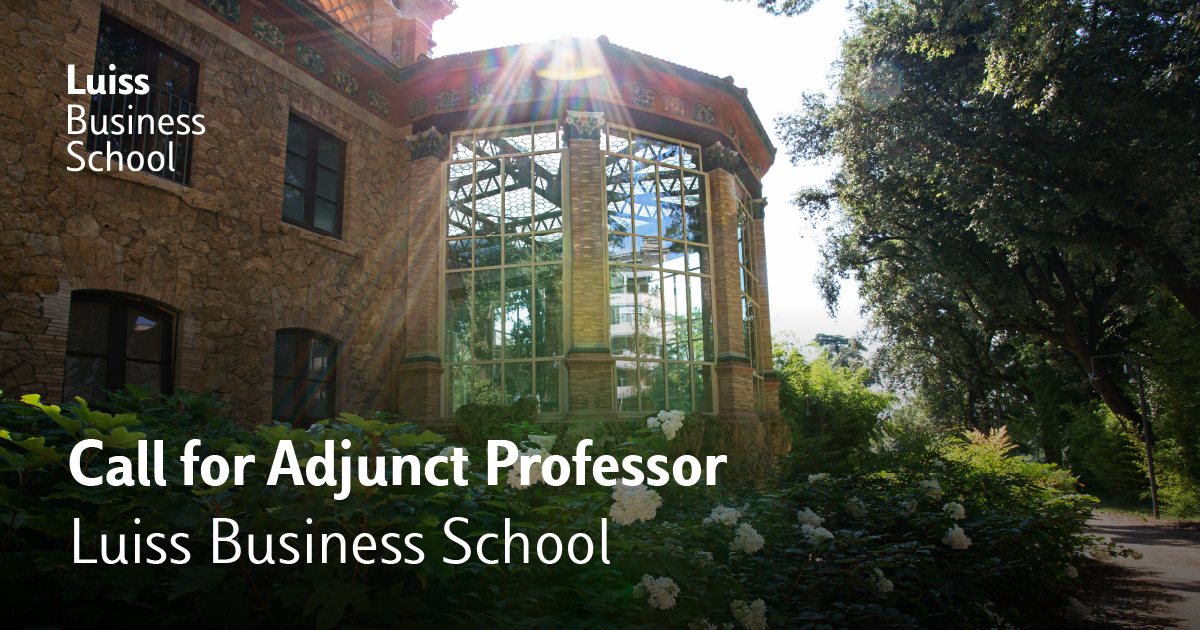 Luiss Business School invites outstanding candidates to fill the positions of Adjunct Professor in the following disciplines:
• Accounting and Compliance
• Banking
• Business and Tax Law
• Digital transformation
• Health care management
• International management
• Leadership and soft skills
• Marketing
• Operations
• Structured Finance
• Sustainability & circular economy
• Management of Information Systems
The duration of the position is 2 years.
About the School
Located in the heart of Rome, Luiss Business School offers undergraduate and post-graduate programs – including MBA and Executive Education Programs. The School seeks to create a passion for quality in teaching, learning, and research, and to train individuals with strategic and analytical thinking skills. The vision of the School is reflected in the design of teaching modules and Learning Labs, such as AdVenture Lab and Soft Skill Lab. Luiss Business School values its collaboration with the business community: the institutional link with Confindustria – the largest Italian industry association – makes the interaction of the School's community with the corporate world a common trait of daily life.
More information is available at https://businessschool.luiss.it/en/why-luiss-bs/.
Application procedure
Interested applicants should send the following information to selectionluissbs@luiss.it by August 31, 2021:
(1) Areas of specialization of the candidate (which areas of teaching the candidate intends to cover at Luiss Business School);
(2) A resume using the attached sample;
(3) A copy of the applicant's best publications, if applicable;
(4) The location the candidate intends to apply for (Rome, Milan or Belluno).
Criteria
· Mandatory:
– Managerial positions or equivalent within companies, consulting firms, financial institutions or public institutions and/or strong expected contribution to the development of the activities of the School;
– Minimum 10 years of working experience;
– Assuring an exclusive commitment to Luiss Business School, i.e. excluding any form of collaboration with other business schools;
– Ability to teach in English.
· Preferred:
– Qualified teaching experience in graduate, post-graduate and executive education;
– Good record of publications;
– PhD.
The selected candidates will be required to:
– Guarantee a minimum of 20 teaching hours per year or teach a full course at Luiss Business School upon the request of the School;
– Participate in relevant activities of the School (Master's direction, Executive course, CAB, counseling) and/or research/consultancy projects;
– Attend the faculty development program focusing on the innovation of teaching methods.
Benefits
– Official recognition of the status of adjunct faculty member of Luiss Business School (website, business card, mail etc.);
– Being part of the School's Community
– Compensation will be based on the effective activities that will be delivered.
6/7/2021