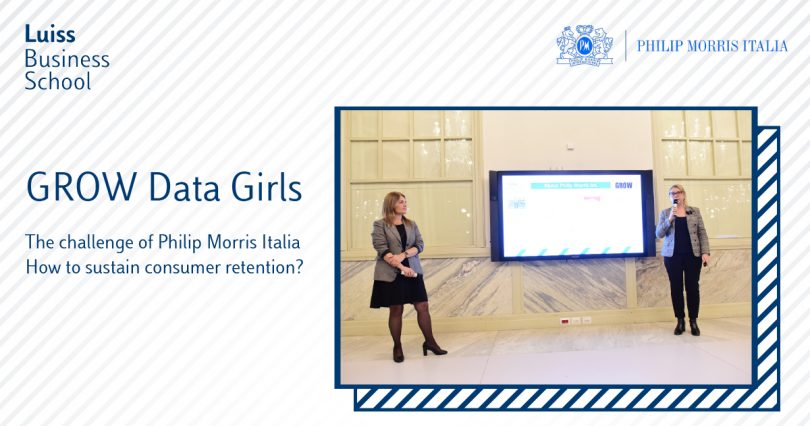 "How to sustain consumer retention?" is the theme of the challenge of Philip Morris Italia for Luiss Business School's students, within the Data Girls initiative.
Data Girls of GROW – Generating Real Opportunities for Women, is a project established with the aim to support young women interested in seizing the opportunity offered from data management and the digital world. An ambitious project which involves important companies, institutions and organizations participating as project sponsors and who want to accompany and improve the Digital Transformation process.
Amit Zenou, student of the Master in International Management, tells about her experience in participating in this project.
«In my team's case, we were handed the opportunity to work alongside Phillip Morris Italia in their efforts to increase the community bonding of their latest technology, the ultimate tobacco heating system IQOS.
In essence, PMI'S IQOS product has revolutionized the tobacco industry as we know it. Integrating modern technology, the heart of the IQOS product contains two decades worth of research and development.
To be honest, it wasn't until we were asked to sign a non-disclosure agreement before the Project Launch at the IQOS Embassy here in Rome that I realize the journey I was about to embark on. During the event, the participants were educated on the IQOS product and networked with appointed representatives of Phillip Morris, Luiss Business School and IBM. While we were provided confidential insights by all three representatives, what really stood out during the launch was the following statement made by one PMI representative:
"What we want you all to remember as you conduct your research is that, with IQOS, the main message we are trying to convey to adult smokers is that the product is a valid alternative to cigarette. In doing so, we try to convey a sense of belonging, a brand-new experience on such a historical habit. Incorporate all five senses, we want to continue to enhance our community with a new IQOS experience. How? Well, that's up to you to decide…" 
When the teams were further educated on the product's success in the Italian market, it became abundantly clear that multiple challenges are impacting the future of the product. With low awareness of the product's loyalty program and unknown understandings of the IQOS legal age users, PMI understood that a change must be done within the IQOS Community… and that it was up to the teams to come up with the answer that will eventually be considered a "win-win" scenario for all parties involved.
Our team consisted of nine members: eight women and one man. The various disciplines played a significant role in the formulation of our team's final solution. The team consisted of inputs of those with interests in pursuing managerial master's degrees in subjects such as energy, fashion & luxury, tourism and digital ecosystems. Amongst the team, seven of the group members were Italian from various regions, and two were international students; one being from Croatia and another being from the United States.
Well, to be more exact, I, the American, was assigned the role of team leader. Knowing the significance of the position, I realized that my job was going to be a bit more challenging due to my diverse American background that differs from the majority of my peers. New to the Italian scene, every day was a brand-new learning experience as I made my way through my master's program and my version of the "dolce vita". Experiencing the Italian culture firsthand opened up my eyes to a whole new world, especially when it came to be grasping the Italian approach of soft-skills development and emotional intelligence. So, when it came time to learn more about my fellow team members, I decided to host an Italian-style aperitivo at my house just like the representatives of PMI did at the Project Launch. In this way, the team was able to bond personally over Italian wine and cheeses, while formulating a strategic plan for the next few months. But if there is anything that I have learned about leadership during this experience is that leadership has no language, and that it is fundamentally a motivation and significant focusing practice.
In the following meetings, our team discussed our findings, our understanding and concerns, and possible candidate solutions to strengthening the IQOS's community while respecting PMI's objectives, goals and corporate values. Throughout our research, my team and I realized that we were facing a real challenge beyond the product itself. Understanding the relevance of technology and society's ongoing desires, it dawned on us that the challenges faced by PMI belong to many more entities than we have ever imagined. Considering the additional issues that include legality of the tobacco industry and information asymmetry, our team needed to find a common denominator that will transform our understanding of what it takes to strengthen a community, let alone one of this complexity. Talk about a challenge!
Just as I thought that our complications couldn't have worsen, we, along with the rest of the world, were hit with the biggest challenge: the COVID-19 pandemic. It was then that the team decided to create its own questionnaire (in both Italian and English) that would allow us to learn more about the consumers' perception of the IQOS product and the awareness of the Loyalty Program while respecting the unusual circumstances. In hindsight, this decision turned out to be the turning point of our project as it became one of the main pillars of our research.
In light of our new normal, the team understood that a major adjustment had to be made. Communicating through WebEx and Skype, our team continued to work well in line with coordination and pointed discussions. We decided to distribute the questionnaire electronically to further support our hypotheses and pending research. In addition to our initial solutions, we were able to learn more about the IQOS Community and discover a new solution that incorporates a rebate program for local tobacconists, an overlooked member of the IQOS community. Consequently, the questionnaire unveiled that the importance of thoroughly understanding the community's self-identity and critical players are fundamental when enhancing community bonding of any kind, especially one just like the IQOS Community. Lastly, with this new understanding in mind, our main focus was to integrate the reasons why those who actively choose to participate in the IQOS Community and attract new potential legal age users.
Winning the semi-finals recognized not only our solutions presented to PMI, but also awarding the newly developed revelation from the perspective of prospective, motivated and passionate female managers. The excitement that soared within the team was one that I simply will never forget, and that later transformed into the final push we needed for the upcoming finals on May 28th.
Upon reflection, I can now understand that the decision to participate in a talent program while attempting to complete a one-year master's degree is one that can raise an eyebrow… or two. Looking back on the experience my team and I have endured together, the decision to participate in Luiss Business School's GROW project will be cherished and valued in full confidence. Not only for the multiple opportunities presented from Luiss Business School, Phillip Morris & IBM, but for the connections that were made, the lessons that were learned, and the experiences that allowed us to grow into the women (and man) we have become as a result. By definition, the composition of a community revolves around the solid foundation of the individuals who inhabit that community. While differences will arise, the growth that took place within our team not only required our ability to work in a team, but also the careful understanding of each and every team member's emotional intelligence. A lesson that our advanced and globalized society tends to forget at times, our younger generations must remind those who proceed us such valuable lesson, especially during the complicated times we are currently facing.
Every adventure has its ups and downs, but if one never tries to face their fears and conquer their dreams, how can we expect others to do the same for our community? As members of our modern world, we must remember that while the future remains uncertain, we individuals are, in fact, the variables that are not temporary. In our eyes and with our proud team spirit, I strongly believe that the takeaways we have provided to PMI can also be taken for ourselves ones that will forever drive us in our future careers, just like it did during our GROW project».
28/5/2020